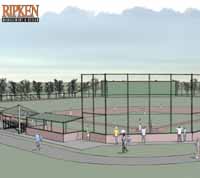 A new youth baseball park is under construction in Southside, thanks in part to the generosity of area businesses.
The Baltimore-based Cal Ripken, Sr. Foundation is building the park on property provided by the Southside location of the Boys & Girls Club at 2409 Bainbridge Street.
The foundation raised just north of $1 million to build and run the park for a few years.
"Richmond was one of the communities we tried to focus our efforts on early on," said Chuck Brady, the foundation vice president of strategic initiatives, who lives in Richmond.
The park itself will cost about $750,000 to construct and will be equipped with AstroTurf fields.
The foundation seeks to provide programs for disadvantaged young people in distressed areas. It was started by Cal Ripken, Sr.'s wife Vi and his baseball playing children Cal Ripken, Jr., and Bill Ripken.
The area where the Richmond park is being built has the highest juvenile crime rate in the city, according to city police stats from 2007. The new field in Richmond will host a youth baseball league in partnership with the Boys & Girls Club.
"We started talking with them to see if they have a location … and if they would agree to own, manage and maintain the facility once it's done, and they did," Brady said.
Brady has been with the Ripken Foundation for five years. Before that, he was the Executive Director of the Boys & Girls Club of Metro Richmond for 13 years.
Brady said most of the funding came from other foundations, including the Cabell Foundation, Mary Morton Parsons Foundation and the Baseball Tomorrow Fund.
"A lot of other corporations were involved. We received nice gifts from Wachovia, BB&T and Bank of America. A lot of individuals chipped in," Brady said.
Richmond has one of seven parks developed by the foundation, including one in Fredericksburg. The first park was completed last year in Baltimore. The other three are in North Carolina, Arizona and Wisconsin. Brady said they have 20 more parks planned across the country.
In Richmond, other local firms have made in-kind donations. For example, Stockner's Nursery is donating all the landscaping for the project.
Timmons Group is working as the engineer and project manager for the park construction. Tim Davey, managing principal of the Timmons Group, is on the local board of trustees for the Ripken Foundation.
"In Richmond, all of my time spent on the project is donated on behalf of Timmons Group. … We negotiated a fair rate for those services," Davey said.
"Groups like that cannot always afford a premium engineer or architect."
Timmons Group also has worked on the foundation's other parks along the East Coast.
"The cause is why we are donating so much time. Everything the Ripken Foundation teaches is everything Cal and Billy learned from their dad which they want to impart to kids through baseball," Davey said.