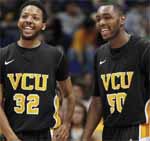 Let the madness begin.
With two teams from Richmond playing in the Sweet Sixteen, students and alumni in the area are busy making travel plans.
If they can afford it.
First there are the tickets, which cost $180 a pop. The ticket is good for both the games, as well as the resulting Elite Eight game.
Commercial airfare from Richmond International Airport to San Antonio for Friday rose throughout the day on Monday. As of 3:30 p.m., a ticket cost between $715 and $1,817, according to quotes on Orbitz.com.
As of mid-day on Monday, airport spokesman Troy Bell said that the Richmond airport didn't have any hard figures on the number of travelers planning to pass through the airport Friday but that they are expecting a lot.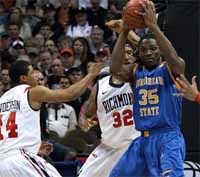 "Anyone following along last night on Twitter and Facebook certainly saw a lot of discussion about getting to San Antonio," Bell said. "We are expecting strong demand."
Bell said there are no direct flights to San Antonio from Richmond. The closest other major airports are in Austin and Houston.
"We've reached out to the air carrier and told them we expect strong demand to San Antonio due to two teams in the Sweet Sixteen," Bell said.  "At times we have seen airlines do 'up gauge,' which basically replaces a smaller jet with a larger jet."
Bell said that in the past booster groups have organized charters to college football bowl games but none have been scheduled yet. The short notice makes it a bit tricky, Bell said.
A University of Richmond alum told BizSense that the school was looking into a charter, which would require 130 people committing to $1,500 a person.
Those looking to charter a small jet had better hurry.
Mike Mickel owner of Dominion Aviation said they've booked up everything they have available.
Mickel said that most of their planes were already booked for travel and that only two were available for tournament-goers.
"I would love to have had some more," Michael said. "We are still getting calls."
MartinAir has one jet booked and another filling up.
"We've still got a 12-passenger. We might be able to put some folks together," said Robin Purcell, director of sales and marketing.