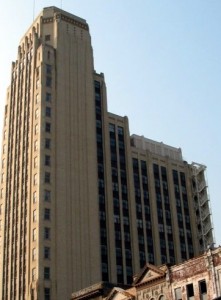 D.C. developer Douglas Jemal has employed some local help to jump-start his long-vacant properties downtown.
Jemal has retained Eagle Commercial Realty to lease all of his local properties, including the Central National Bank building and the Interbake facility at Broad and Boulevard, which was recently condemned by Richmond's Police Department because of frequent use by vagrants.
"I think the goal is to implement Douglas's vision that he has for the Broad Street, which is very similar to what he did in D.C. on F Street, which is bring in some better retail to the corridor," said Chris Pine, managing director.
Pine said Jemal reached out to him because they have a history of working together.
"I've known Douglas for a long time. I did business with him in D.C. and really respect his real estate acumen," Pine said.
Jemal recently renovated several store fronts in the 200 block of East Broad Street, which will be the initial focus for ECR's efforts, as well as other retail properties along Broad including the former United Way office building. Brokers Harrison Hall and Jeff Doxey are representing the properties.
As for the Central National Bank building, an early 20th-century skyscraper at Third and Broad, Pine said the focus for now will be to lease the ground level space available.
"Personally I think it is a great space for a restaurant in the bank itself, which is 10,000 square feet on the ground floor," Pine said.
ECR will also be generating interest in development of the Interbake cookie factory.
"Mixed use and residential above is the appropriate use for that building. We will work to create and generate interest in the retail market place and go through the entitlement and design process," Pine said. "I personally think it is one of the best retail corners in Richmond."
– Al Harris.