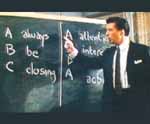 Welcome to DealFlow, a new monthly BizSense data section tracking all the recent deals (IPOs, M&A or capital raises) that local firms — investment banks, private equity, venture capital, etc. — had a hand in. DealFlow also highlights local businesses that have raised capital on their own or been party to a merger or acquisition.
To make sure your deal is included in the monthly round-up, email [email protected].
Harris Williams & Co.
Harris Williams & Co. acted as exclusive advisor to Encore Discovery Solutions in its sale to Kansas City-based Epiq Systems Inc. Encore is a portfolio company of the Chicago-based Frontenac Company. Glenn Gurtcheff from Harris Williams' Minneapolis office, and John Arendale, Brian Lucas and Lanre Osinusi from the firm's Richmond office worked the deal.
Transaction value: $100 million
Transaction announced: April 6
BB&T Capital Markets
BB&T Capital Markets served as the exclusive financial advisor to ATK Vege  in the sale of the company to LKQ Corp. Texas-based ATK is an engine remanufacturer. LKQ is a provider of automotive aftermarket and recycled collision replacement parts. Rex Green and Jonathan Carey from BB&T's Automotive Aftermarket Investment Banking Group worked the deal.
Transaction value: not disclosed
Transaction announced: March 22
BB&T Capital Markets represented Rikko International, doing business as Dr. Comfort in its sale to DJO Global. Dr. Comfort is a Wisconsin-based therapeutic footwear maker.
Transaction value: $254.6 million cash
Transaction announced:  March 15
Wunderlich Securities
Wunderlich's local office served as co-manager in five public offerings over the last month including:
Imperial Finance & Trading – a $179 million IPO
Nuveen Energy MLP Total Return Fund – a $487 million IPO
Cushing MLP Total Return Fund – a $60 million follow-on offering
Linn Energy, LLC – a $620 million follow-on offering
EV Energy Partners – a $133 million follow-on offering
Clayton Jones and Michael Mendelson, managing directors in Wunderlich's Richmond-based investment banking group, worked the deals.
ClearPoint
ClearPoint Credit Counseling Solutions entered into a merger agreement with Consumer Credit Counseling Service of Central New York. The deal must received regulatory approval. CCCS will assume the name ClearPoint Credit Counseling Solutions and will have a presence in 12 states.
Transaction announced: April 6
Financial terms: Not disclosed
Michael Schwartz is a BizSense reporter. Please send news tips to [email protected]