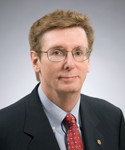 The University of Richmond is bringing in the head of one of the world's largest research institutes for graduation this spring.
The school has booked Curtis Carlson, CEO and president of SRI International, to speak at its commencement ceremony May 8. Carlson
SRI is a non-profit research institute that conducts research development for government agencies, commercial businesses, foundations, and other organizations.
Carlson is known for being a leader in the development of the American HDTV broadcast standard and satellite broadcast image quality.
He's also a regular speaker to organizations about innovation and global competitiveness.
Before joining SRI, Carlson spent more than 20 years with Sarnoff Corporation, which is now a SRI subsidiary.
Now he serves on President Obama's National Advisory Council on Innovation and Entrepreneurship where he advises U.S. governors, economic ministers, and education ministers around the world on innovation and educational reform.
Besides SRI, Carlson is also a founding member of the Innovation Leadership Council of the World Economic Forum and a member of the original team that helped create the Army's Federated Laboratories.