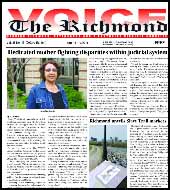 For the second time in two years, a local newspaper must again defend itself against charges of defamation.
Southside Voice Inc., the parent company of the Richmond Voice, lost a slander lawsuit in 2010. Now the company is being sued for defamation and libel by an attorney and the judge who worked that first case.
It all started when Southside Voice was sued for slander in summer 2009 over a letter to the editor it published about a Henrico County middle school teacher.
That teacher won his case and in March 2010 was awarded $125,000 in total damages from both the Voice and the author of the article.
The Voice, a weekly newspaper that caters to an African American audience, was miffed by the court's findings. It wrote an editorial on the ruling a week later, defending its publishing of the piece and questioning how the case played out in court.
Now that article, too, has come back to bite the Voice.
On March 24, Wayne Barry Montgomery, the attorney who represented the slandered teacher, and Melvin R. Hughes Jr., the Richmond Circuit Court judge who presided over the first suit, sued the Richmond Voice and its president Jack Green, alleging defamation and libel.
Montgomery and Hughes are seeking $1 million in compensatory damages and $350,000 in punitive damages. The suits were filed in late March in Chesterfield County Circuit Court.
Green, who the suits claim wrote the latest article in question, declined to comment when reached by phone Tuesday.
Montgomery, an attorney with Richmond-based firm Kalbaugh, Pfund and Messersmith, referred questions to attorney Patricia McGraw of Charlottesville-based Tremblay and Smith. McGraw, who is also representing Hughes, declined to comment on the suits.
In particular, the suits state that Hughes and Montgomery take issue to the article's assertion that courtroom politics may have played a role in the outcome of the first slander case.
Chris Gatewood, founder of Threshold Counsel, said that proving there was actual damage can be tricky with defamation suits.
"Virginia law states that to prove there was damage [one has to prove] the statement was not simply false but that it had an impact or some type of damage," said Gatewood.
The question of damages and how the court quantifies them might actually occur in such an instance, but Gatewood said it could vary depending on the case.
"It's a hard thing to demonstrate exactly how much," he said. "If it's a professional thing, somebody can demonstrate that they'd never be able to work in that profession again or business or clients they've lost."
Hughes and Montgomery are asking for a jury trial. The Richmond Voice and Green have not responded to the suits.