Nuccio Giambanco didn't have to go far when relocating his Chesterfield restaurant.
In May, Giambanco will reopen Nuccio's Trattoria and Pizza on the corner of Courthouse Road and Lucks Lane, a stone's throw from its original location.
Giambanco ran the Italian restaurant for 10 years in the shopping center next door before having to close last year because of increasing rent and conflicts with his landlord.
"The rent was going up every year," said Giambanco, 55.
Giambanco said that his landlord increased the rent by more than 65 percent for his 2,600-square-foot space on Courthouse Road and that it just wasn't worth it to stay.
"I tried to talk to my landlord," he said. "If he would have lowered the rent, I would still be there."
There were also maintenance issues with the space that were draining the restaurateur's pockets, Giambanco said. He said he put about $250,000 worth of repairs into the original location before calling it quits.
So Nuccio's closed in August, but Giambanco didn't let that stop him from pursuing his next venture.
In December, he decided to expand to Short Pump and open Osteria La Giara in the Towne Center West development just beyond Short Pump Towne Center.
Giambanco said that business at the Short Pump location has been pretty steady and that it has been a nice change from Chesterfield.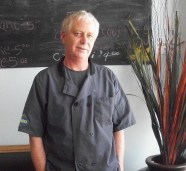 "It's more open, and there are more people," he said. "I could not have done it in a neighborhood like in the Southside."
Yet the Southside beckoned.
The plan to reopen Nuccio's in Southside started about six months ago when customers were asking Giambanco to come back to the area.
"I have a bunch of customers and friends here," he said. "I didn't want to lose that clientele."
Giambanco leased an 800-square-foot space this month at 1150 Courthouse Road, a space next to a gas station that will do only delivery and take-out. The former Nuccio's was a sit-down restaurant.
"It will be more exposure, and there's a lot of traffic," he said. "For people on the run, it's next to the gas station so they can just grab a pizza and go."
Giambanco plans to open the new location in mid-May.