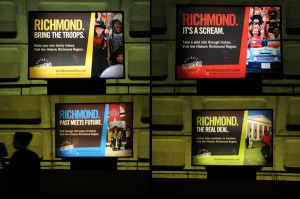 Richmond's boosters are launching a month-long media blitz aimed at persuading Washington residents to "like" Richmond.
The Richmond Metropolitan Convention & Visitors Bureau has invested $45,000 to fill advertising space inside the D.C. Metro stop that services the downtown Verizon Center with ads pitching Richmond as a sophisticated, hip and historical haven.
"We love it. We feel like it's a good fit," said Jennifer Carnam, vice president of marketing for RMCVB. "It catches both commuters and tourists who are in D.C. So far it's been getting incredible buzz."
RMCVB secured the ad space with assistance from the tourism council, which is providing support to the bureau for the campaign.The visitors bureau has also partnered up with the Virginia Tourism Corporation to offer social buying deals, similar to those on Groupon and LivingSocial, aimed at D.C. residents who "like" the Virginia Is For Lovers Facebook page. A new deal is being offered each day this month.
The ads consist of several banners and lighted signs throughout the metro station, as well as 27 panels that display a timeline of events from 1861 to 1865. Technology allows the tourism bureau to track response to the ad with the help a QR code that can be scanned by smart phones. If someone viewing the ad scans the code, his or her phone will display information about visiting Richmond.
"If you scan a code about the state capital, it will take you to an itinerary that includes a tour of the capital," Carnam said.
The group can also track how many people access the information using their phones.
Carnam said they are focusing their marketing efforts on Washington because its proximity makes it a target market for tourists. She said a smaller push into D.C. was successful last year.
"We are fishing where the fish are," Carnam said. "That's where our visitors come from."