A New York restaurateur is expanding his concept to Richmond.
Carlos Londono hopes to open Mexican restaurant Margaritas Cantina in Shockoe Bottom this June.
With 16 years in the restaurant business, the New York native decided it was time to expand.
He has operated Iguanas Cantina, a Mexican restaurant in Queens, since 1994 and has managed the original Margaritas, also in Queens, for the past 10 years.
"Both are still successful," said Londono, 38. "I was just interested in expanding."
His wife, Adrienne, is originally from Richmond, and Londono took a liking to the place after frequent visits to her family. This will be the second Mexican restaurant in that neighborhood, joining La Bamba across the street.
"Over the years I started to really like Richmond, so I wanted to try expanding here," he said.
Londono had been looking for a space in Richmond since October. After investing about $250,000, he leased a 2,500 square foot space on North 18th Street in February in the building that was formerly Zuppas restaurant.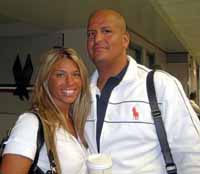 The new location will be open for lunch and dinner and try to appeal to the nightlife crowd.
"There's no shortage of Mexican restaurants here, but I'm bringing a different flair," he said.
Margaritas Cantina will be tropical-themed with big paper-mache birds, tropical colors and decor from Mexico on the walls, Londono said.
The menu will feature a mix of some of Londono's original recipes along with enchiladas, burritos and other traditional dishes.
"It will be modern Mexican cuisine with a twist," he said.
Londono said he wanted the restaurant to appeal to Richmonders but still keep the feel of his hometown.
"A New York touch with southern charm," he said.
He also plans to start having live music such as a mariachi band and DJs for the weekend crowd.
Londono still maintains the New York restaurants and plans to commute among the three.
Londono said he plans to bring on 12 employees to staff the restaurant and hopes to be open by June 1.