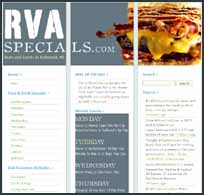 A new website has launched to keep Richmonders in the loop on local deals and events.
"We were sitting around having some drinks and thought, 'Why is there not one site that compiles everyone's specials?'" said Nathan Burns, creator of RVA Specials.
The site is a listing of lunch, dinner and drink specials at restaurants and bars in downtown Richmond.
"Anyone that wants to can go on and search by day or by happy hour," said Burns, 24.
Burns has lived in Richmond since July 2008 and works full time as an editor at Park Group, a video production services company. He came up with the idea in February with friend and co-founder Rob Dessimoe.
"We went around to places and compiled information of all the bars and restaurants," he said.
"We kind of set ourselves up for downtown," Burns said.
The site displays specials for every day of the week — including for lunch and brunch — and a special tab for happy hour deals.
RVA Specials also has a weekly events section, with offerings such as trivia at Penny Lane Pub on Mondays and "Minute to Win It" at Baja Bean Co. on Thursdays.
Burns said he only invested about $17 for the domain name to get everything up and running.
RVA Specials is free for users, and Burns said he doesn't plan on charging anyone to view the deals.
Since they started, Burns has been traveling to more bars and restaurants and posting their deals to the site, and a few places have started contacting him.
"Through word of mouth, we've added more deals. Now we've had Tobacco Company contact us to add more of their deals," he said.
The first day the site went live, Burns said, traffic hit 550 page views, and now it's about 50 to 75 views a day. He hopes to expand that.
"We don't have every single deal listed. We plan to grow it in terms of outreach for people," he said.
Burns said he's going to stick to listing deals in the downtown area for now but hopes to eventually add other sections of Richmond as they grow.