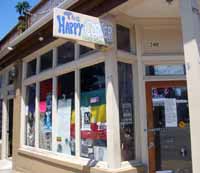 The owner of a small retail shop in the Fan wants his stuff back.
Christopher Dorsey, who owns the Happy Corner on the corner of Stafford Ave. and West Main Street, has been involved in a legal dispute with his landlord, Antonio Santos, over access to the small retail shop that he ran. BizSense covered the squabble last week but was unable to reach Dorsey.
But in an in-depth interview Tuesday, Dorsey said that – contrary to his landlord's claims – he was paying his rent on time and that his property was unfairly seized when he was locked out of his shop in April. Dorsey, 37, said he wants his property back from the store, which sells clothing, posters, used bikes and glass pipes.
"Every month, I was paying my rent in full," Dorsey said, adding that he has feuded with his landlord since moving in to the space in 2005.
Dorsey also claims the building wasn't being kept up. The building "was beyond run down — I would say it was uninhabitable," he said.
Dorsey said rent was also a problem.
"Each year my rent was going up," he said.
Dorsey said that during his five-year lease, he started out paying $1,150 per month and ended up paying $1,350 in summer 2010.
"Things were constantly changing, and I was trying to run a business," he said.
After several warnings informing Dorsey that Santos would be "exercising lien of the property," locks were placed on Dorsey's shop in April.
Dorsey said he tried talking to Santos to get his belongings, which included the copy of his lease, out of the store.
"He told me to talk to the lawyer," Dorsey said.
That same month, Dorsey filed an emergency injunction in Richmond Circuit Court to gain access to his copy of the lease and other belongings that were in the building.
During the injunction hearing, Dorsey said the judge wouldn't allow him to explain his side of the story.
Ultimately, Dorsey said the reason his injunction was denied is unclear.
"The judge ruled that [Santos's attorney] would go through my receipts and papers and decide what information he was going to give me," Dorsey said.
Dorsey hasn't spoken to Santos since the hearing and said he was initially going to appeal the denied injunction but decided against it.
"I don't want to go back in there," he said.
Although the Happy Corner dispute might be over for now, Dorsey said he has bigger endeavors in mind.
"My plans are to campaign for sheriff and work to bring to justice illegitimate leaders," Dorsey said.