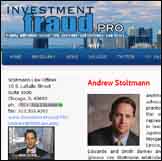 Questions about the financial state of a local REIT have class action attorneys across the country smelling blood.
If you've Googled the term "Apple REIT" in the past few days, the first results to pop up are sponsored links for law firms asking such fear-inducing questions as "Suffer Apple REIT losses?" and "Losses from David Lerner?"
You would then stumble across websites such as www.davidlernerlawsuit.com and  www.recoverdavidlernerlosses.com.
The legal drama involving investors, the Richmond REITs and its broker illustrates how class action firms use the Internet to swoop in on such cases and potentially cash in by tracking down investors who might want to make claims.
Apple REIT is a local real estate investment trust company that has come under fire in regards to questions about the true value and financial state of some of its funds.
David Lerner Associates is the New York broker who exclusively sells Apple REIT shares and was charged this month by federal regulators for allegedly misleading investors when selling the REIT's shares.
The strategically placed online links lead web surfers to pages set up specifically to track down Apple REIT investors who might or might not be disgruntled or fearful that they're losing money on their investments.
The strategy resulted last week in a class action suit filed in New York federal court against Apple REITs Nine and Ten, Apple REIT founder Glade Knight, David Lerner & Associates and the board members from the two REITs.
And more claims could be on the way.
Andrew Stoltmann, an attorney with Stoltmann Law Offices in Chicago, said his firm is knee-deep in Apple REIT- and David Lerner-related claims.
"There are a lot of targets to go after," Stoltmann said. His firm filed the first class action suit last week against Apple REIT and its fellow defendants. "Certainly Lerner is the lead target."
The challenge for firms that try to tackle class action cases against such defendants is tracking down the investors. Apple REIT shares have been purchased over the years by tens of thousands of investors.
Stoltmann said that about 50 percent of people who have potentially valid claims in such cases never come forward.
But that is a vast improvement from the old days.
"Before the Internet, it was maybe 10 percent of the people came forward," Stoltmann said. "The Internet has kind of revolutionized these cases."
Stoltmann claims his firm was first to pick up the scent on the Lerner and Apple REIT situation when he received a call from an Apple REIT investor prior to Lerner being charged by federal regulators.
As Stoltmann began building cases, other firms began going after their share. When FINRA filed charges and made its claims against Lerner, the floodgates opened.
"Some other lawyers got wind of what we were doing after we filed a press release," he said. "Once FINRA filed charges, our phones started ringing off the hook," he said. "[Other lawyers] come out of the woodwork. It's just kind of the nature of the beast."
Stoltmann, whose firm works exclusively on securities litigation and arbitration, said he gets about four to six "targets" each year – instances when his firm feels it has a legitimate case to go after.
"It will start with one client, and it will snowball as word gets out," he said. "Then we'll put some money into advertising and websites."
Stoltmann's firm has been in contact with close to 150 Apple REIT investors, he said.
"These are unsophisticated investors who had big chunks of their net worth tied up in Apple REITs," Stoltmann said.
For class action cases, the paydays can be big, with the firms typically getting 30 to 40 percent contingency fees on any potential settlements. The contingency fee model means the lawyers work these often massive cases for free, hoping for a pot of gold at the end.
But there is a risk that investors could lose the case, leaving their lawyers empty handed.
"We'll put hundreds of thousands of dollars into those cases to try to pursue them," Stoltmann said.
With the potential big paydays come some negative perceptions that class action lawyers are only in it for the money.
Stoltmann says the stigma is undeserved.
"I don't know anybody who went to law school who didn't go to help people," he said.
Michael Schwartz is a BizSense reporter. He covers the legal industry for RBS. Please send news tips to [email protected]