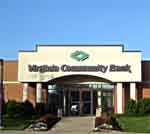 Battered by losses on commercial loans, Virginia Community Bank is the latest area bank to enter into a written agreement with state and federal regulators.
The agreement lays out steps the bank, which hasn't turned a profit since 2009, must take to improve its financial footing.
It joins five of its regional peers under written agreements: Essex Bank, Virginia Business Bank, Central Virginia Bank, EVB and Bank of Virginia.
Headquartered in Louisa, the $226 million bank does a good chunk of its business in the northwestern outskirts of the Richmond region. It has eight branches across Central Virginia and controls about $100 million of deposits in the market or about 0.19 percent of all deposits in the market, according to the latest FDIC statistics.
Like other struggling local community banks, VCB has been hit by losses on commercial loans, including commercial real estate, construction and land development loans.
At the end of 2010, a year in which the bank lost $1.4 million, it had $10.7 million in past due and non-performing loans, according to its FDIC call reports. That figure jumped to $13.3 million by the end of the first quarter, when the bank lost $87,000.
According to the agreement, VCB must take several steps to improve its situation, including strengthening its credit risk management, devising a plan for reducing problem assets and limiting concentrations on certain types of lending, with an emphasis on commercial real estate. It must assess management.
As is typical by the time written agreements are made public, the bank is working on its situation.
VCB recently replaced its longtime chief executive with Preston Moore Jr. He took over for Pierce Stone, who had run the bank since the mid-1970s. Moore couldn't be reached for comment by press time.
The bank said in a prepared statement last week that it has taken measures to substantially reduce its non-performing assets within the next 90 days. The bank said it has also taken steps to increase its loan loss reserves and increased its staff to manage problem loans.
Per the agreement, the bank and its parent company, Virginia Community Bankshares, are prohibited from paying dividends without first receiving permission from regulators. That is a common stipulation in such written agreements.
The agreement does not impose any restrictions on lending or offering any other products or services.
Despite the agreement and the loan losses, the bank remains well capitalized according to regulatory standards.
Michael Schwartz is a BizSense reporter and covers banking. Please send news tips to [email protected].