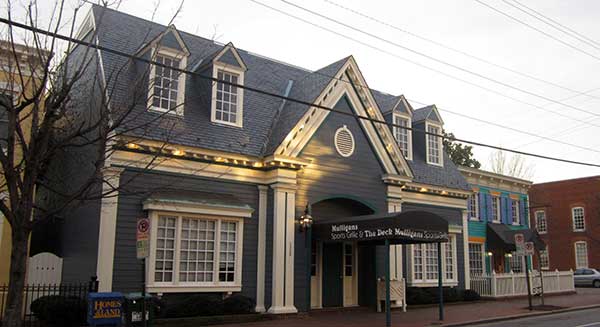 The original owner of one of Richmond's longest running sports bars has sold, and a new restaurateur is taking the reins.
John Sweeney has sold Mulligan's Sports Grille at 1323 W. Main St. in the Fan after 15 years. The new owner is Edward Dudley, who opened a Wings, Pizza 'N' Things franchise at Regency Square Mall in September.
Sweeney was one of the original partners of Mulligan's, which opened its first location in Innsbrook in 1990 and at one point had several locations across Richmond.
"It has been a great run," said Sweeney. "This year has been great in particular with VCU and UR and all those things going on. It just seemed liked a good time to sell."
The sales price was undisclosed but the business was previously listed for $175,000. Nathan Hughes, a broker for Bandazian & Holden, represented Sweeney in the sale.
Sweeney said the restaurant's lease was coming up for renewal, which would have required him to commit to several more years.
Most of the other Mulligan's locations have long since been sold off and closed, with the exception of one on Hull Street in Chesterfield that is owned by Chris Latorre.
"As we went along, each guy had their own restaurant and ran their restaurant," Sweeney said. "We just kind of shared information with each other. It was something that just kind of evolved."
Sweeney, 55, was a teacher at Douglas Freeman High School before becoming an equity partner in the first Mulligan's with partner Matt Hurley.
"Fortunately Innsbrook was a very profitable restaurant and gave us the ability to open more restaurants," Sweeney said.
Deciding to sell after all these years wasn't easy, Sweeney said.
"When you have one of these places they are kind of like a child to you almost," he said. "It is with mixed feelings I'm doing this. I went back and forth for a long time."
"The place is pretty unique," Hughes said. "It is a 7,300-square-foot sports bar in the heart of VCU with smoking and non-smoking areas."
The actual building is owned by Eck Properties, which is one of the biggest property owners in the surrounding area.
Dudley, the new owner, said he'll be working with the landlord to paint the interior and exterior. He's also planning a few other changes, such as updating the menu and the TVs.
Dudley, 38, opened his first restaurant, Wings, Pizza 'N' Things at Regency, after 10 years working for Verizon's wire service division.
He said he was looking for a second restaurant to own when he came across Hughes's listing
"I saw it was in a high traffic area and had all the touch points I was looking for in an existing business," Dudley said.
Dudley said he isn't going to veer too far from what Mulligan's has done.
"The thing that is nice is it has a good reputation in the Richmond area," Dudley said.