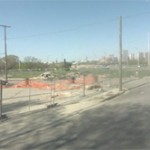 An apartment project sidelined by the recession might get a fresh start now that it's in the hands of a new developer.
North Carolina-based Ravin Partners LLC recently closed on a $1 million purchase of a 2.25-acre site on Cowardin Avenue, located at the south side of the Lee Bridge. Ravin Partners purchased the property from an investment entity known as City View LLC.
The property carries with it a special use permit from 2008, allowing the owner to build up to 200 apartment units. That permit is a remnant of a project that was proposed for the site by Crosland, a North Carolina-based developer that previously was interested in buying the property. The project was called Manchester on the James.
Bruce Milam, a broker for Grubb & Ellis | Harrison & Bates who represented the seller, said that Crosland had a contract to buy the land but that the deal had been completely stalled for about a year.
"They walked away, and their multifamily [operations] folded up," Milam said.
In June, Crosland officially spun off its retail, residential multifamily divisions to focus solely on managing its existing assets.
David Ravin, who headed Crosland's multifamily development, formed Ravin Partners to acquire the assets from his former division, as well as the company's construction group.
"Ravin purchased the site knowing as much about it as he did," Milam said.
BizSense could not reach Ravin by press time.
Ravin Partners has also taken over three stalled apartment projects in the Triangle region of North Carolina, according to a story in the Charlotte News & Observer.