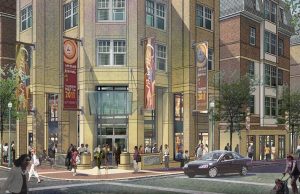 A vote on a controversial student housing project has been delayed.
City Council was scheduled to vote Monday on a special use permit that would allow Gilbane to develop a $35 million, 163-unit, 498-bedroom apartment building at 1200 W. Marshall St.
But the vote has been continued indefinitely at the request of the Rhode Island-based developer.
"Everyone on our team supports and believes in the project," said Andy Condlin, an attorney for Williams Mullen representing Gilbane. "We want to regroup and hopefully reappear before city council at a later date."
The city planning commission voted against approving the project by a vote of 4-3 last week. The city planning staff recommended against approval as well, citing concerns that the proposed development would bring too much density to the area and upset the balance of multi-family to single-family homes in the Carver neighborhood.
The Carver neighborhood association also opposed the project by 13-10 vote.
"Based on the intensity of the opposition there seems to be something wrong with how people are receiving our proposal," Condlin said, adding that the developer plans to continue to have dialogue with the community about the project.
City planners had worked with the developers over several months, urging them to reduce the number of units. The developer responded by reducing the number of 4-bedroom units from 102 to 69. That wasn't enough for the planning staff, which requested further reductions of about 100 more bedrooms. Gilbane maintained that it would not be economically feasible to do so.
The project would have cost an estimated $35 million to construct, and Gilbane had a contract to purchase the industrial property upon approval of the project from owner Frank Wood.
Sources familiar with the deal said the purchase price for the property was $3.5 million.