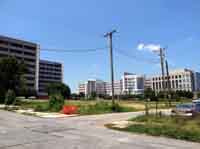 The developer behind the renovation of the John Marshall Hotel has big plans for an empty lot in Manchester it just bought from a bankrupt prominent local family.
Dominion Realty Partners closed Friday on the $2 million purchase of a 1.8-acre parcel at 901 McDonough St. and is planning a $15 million apartment project.
Manchester Place LLC, managed by Dominion Realty, bought the property from three owners, including George-Marshall Corp., a bankrupt real estate holding company tied to Allen Meade Ferguson and his wife, Mary Rutherfoord Mercer Ferguson.
Dominion, which had been after the property since 2009, is planning a four-story, 188-unit apartment development and parking garage. Almost $16 million in building permits have been filed for the project, which will likely be called Manchester Place. It sits across from the UPS building.
"It's a bold move," said Lewis Little, a senior associate with Grubb & Ellis | Harrison & Bates who represented the sellers. "It says a lot about Dominion's belief in the Southside of Richmond."
Bruce Milam, a vice president at Grubb & Ellis, represented Dominion Realty.
The $2.05 million purchase had to be approved by federal bankruptcy court after the Fergusons, known locally for Mr. Ferguson's ties to an old-Richmond investment bank and for their philanthropic efforts, filed Chapter 11 bankruptcy on March 31. (You can read about that here.)

View Larger Map
Although still viable businesses, George-Marshall Corp., along with Mercer Rug Cleansing Inc., also were put into Chapter 11 bankruptcy because they were used as collateral on loans tied to the Ferguson's personal finances.
Both entities are family businesses that were once run by Mrs. Ferguson's father, George Mercer. Mrs. Ferguson is the president and sole stockholder of the companies.
George-Marshall Corp. owned a 25 percent stake of the Manchester property. The proceeds of the sale will help chip away at the debts the Fergusons are attempting to settle through bankruptcy.
George-Marshall still owns four properties in Richmond, including the Mercer Rug building and the land at 3116 W. Moore St. in Scott's Addition, as well as a nearby building that is leased to an undisclosed third party.
It also owns a building occupied by Victory Rug in Oregon Hill and a second vacant lot at 811 Albemarle St.
David Spiro, an attorney with Hirschler Fleischer who is handling the bankruptcies of the George-Marshall and Mercer Rug entities, said the remaining properties are being shopped around.
"We have received substantial interest on the other properties," Spiro said.
Jeff Geiger of Hirschler Fleischer handled the closing of the Manchester site.
Dominion Realty President Michael Campbell did not return several calls seeking comment on the new project. Guy Blondon also worked the deal for Dominion.
The other sellers in the deal were the Grace M. Ginn Family Trust and GII Corporation, which both have ties to Mrs. Ferguson's relatives.
As the story goes, George Mercer and his brother Marshall bought the property in the 1930s or '40s. It has always been a parking lot.
Michael Schwartz is a BizSense reporter. Please send news tips to [email protected].