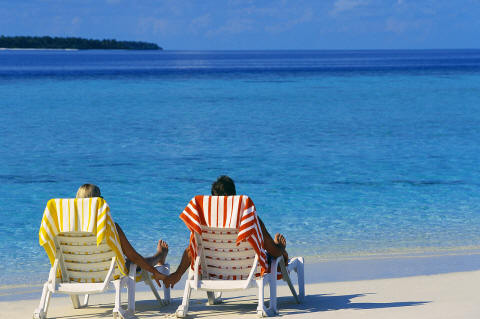 It's almost time to head back to school, but with one long weekend left, BizSense has dug up some Labor Day deals for procrastinators. Generally vacationers can get a discount on the third night's stay at hotels and B&Bs.
Beach getaways
Because of Virginia Beach's Rock 'n Roll Marathon over Labor Day weekend, only two hotels at the beach are offering anything close to discounts:  The Oceanfront Inn at 2901 Atlantic Ave. offers a free passport pin (worth $35) to get into the American Music Festival with every room booked at the regular rate ($229), and the Cutty Sark Hotel at 3614 Atlantic Ave. offers a fourth night free if you pay for three nights. Both deals can be seen and booked here.
If you travel a bit farther east – across the Chesapeake Bay Bridge-Tunnel to the Eastern Shore – you can find a deal in a small town. With the shore's width ranging from five to 12 miles, no place is far from either the ocean or the bay.
Bay Creek Vacation Rentals in Cape Charles has two signature golf courses, a marina, overnight accommodations and dining facilities and is offering a golf package starting at $400 per person, with a four-person minimum. (www.baycreekresort.com, 757-331-8750, 888-4229275)
Thirty-eight miles north, in the wharf town of Onancock, the Charlotte Hotel has a dining package with a three-course dinner for two for each of two nights, accommodations in a queen room and two full breakfasts each of the two mornings ($500 per couple including tax and gratuity, excluding alcoholic beverages).  Offer valid through Sept. 30. (www.thecharlottehotel.com, 757-787-7400)
On Chincoteague Island, 34 miles north of Onancock, there is the Lighthouse Inn, located in the heart of the town. Stay Saturday and Sunday (Sept. 3-4) and get 50 percent off your room on Monday, Sept. 5.  Rates begin at $119.95; AAA/AARP, government and military discounted 10 percent. (http://www.mylighthouseinn.com, 888-336-6777 or [email protected])
Settled in 1634, Smithfield combines the charm of 18th-century heritage with its location on the Pagan River. The $350-per-couple Smithfield Inn Labor Day Getaway package includes a four-course dinner with wine on the night of arrival, overnight accommodations for one night and a country-style breakfast. (www.smithfieldinn.com, 757-357-1752)
Hampton Inn & Suites Smithfield has two packages, its "Historic Smithfield" beginning at $132 and its "Windsor Castle Park" starting at $134, both including a complimentary travel bag and gift cards from local merchants. Use property code ORFSMHX. (www.smithfieldsuitesva.hamptoninn.com, 757-365-4760)
In the Blue Ridge
Orange, Bath and Nelson counties offer B&B and villas specials over Labor Day, including 50 percent off a third night's stay at Holladay House Bed and Breakfast on West Main Street in Orange (www.holladayhousebandb.com, 540-672-4893) and a two-night Labor Day weekend stay at Orchard House Bed and Breakfast in Lovingston that includes a chauffeured Nelson County wine tour with tasting fees, a picnic lunch and other amenities included in the $455-$485 per-couple price. (www.orchardhousebb.com/ohwinetourpackage.html, 434-263-7747)
Bring seven of your closest friends to the Meadows Villas at Warm Springs for its Labor Day Two-Villas Escape for three nights, $599. Must mention Richmond BizSense when you call Jan for the two-villas special. (www.meadowvillas.com, 717-951-3955)
The 10-room Acorn Inn Bed and Breakfast in Nellysford offers hard-to-beat holiday rates: a 20 percent discount on one night of a three-consecutive-night stay, including any part of Labor Day weekend, with rates ranging from $55 for one person, Mon.-Thurs., to $125 for a cottage for two adults on weekends.  Continental-plus breakfast included. (www.acorninn.com, 434-361-9357)
In the Shenandoah Valley
Butterflies are free (almost) as part of Natural Bridge's Summer Escape package, starting at $85 for two people through Labor Day and including admission to Virginia's largest indoor butterfly garden, the Butterflies at the Bridge exhibit.  For those just passing through the southern part of the valley, take advantage of an $8 ticket discount.  Both deals are for online purchases.  (www.NaturalBridgeOffers.com)
Wine lovers in the northern part of the valley should check out the $250 two-night package, Thursday through Sunday, offered by Hampton Inn & Suites in Woodstock (off Interstate 81 in the northern tip of the valley), including tour and tasting fees at four wineries. (www.hamptoninnwoodstock.com, 540-459-7111, offer good through Dec. 31)
The Lafayette Inn & Restaurant in Stanardsville near the Route 33 entrance to Shenandoah National Park is showcasing a Caribbean menu (with Jamaican beer available) at its five-course dinner on Sept. 4 for $49.95.  Caribbean attire is encouraged.  ( www.thelafayette.com, 434-985-6345)