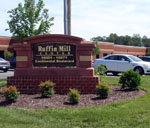 A local real estate development firm is ready to start building new flex space in Chesterfield.
The Landmark Company has completed most of the site work for the second phase of its Ruffin Mill Center office/warehouse development at Continental Boulevard and Ruffin Mill Road in southern Chesterfield.
The company is ready to start construction at the end of the month, according to principal Rory O'Connor.
The new phase will consist of two buildings totaling 68,400 square feet with a projected construction budget of $3.5 million. It is financed by a construction loan from First Capital Bank.
The first phase, which is about the same size as the second, was completed in 2009.
"We got started in 2008 before everything kind of fell apart, but we were already in it, so we completed Phase One, which has taken us two and half years to lease up," O'Connor said.
Tenants of the first phase include Allen Corporation of America, Efficiency Management and Kraft Foods Global. The existing buildings are 91 percent leased.
There are no tenants currently in line to take space in the upcoming phase.
"The space is speculative," O'Connor said. "Generally speaking, we will have tenants sign up during construction, which is what typically happens in a space like this."
The vacancy rate for flex space in the Richmond metro was 17.8 percent in the second quarter, according to market stats from Grubb & Ellis | Harrison & Bates. New construction for flex and other industrial properties has been nonexistent since the market crash as brokers and landlords have struggled to fill space.
O'Connor said much of the demand for space at Ruffin Mill Center has come from tenants serving nearby Fort Lee. Three of the current tenants are vendors supporting operations at the nearby base.
The Landmark Company has been developing office and flex space in the Richmond area for 30 years. It sold off its portfolio in 2006. O'Connor said Ruffin Mill Center is its only property now.
David Williams, a senior broker with Grubb & Ellis | Harrison Bates, which handles leasing for the center, said that particular area is well suited to that type of property.
"What we found is that there was a good niche in what they call the gateway region, which I think is fueled by Fort Lee, the Rolls-Royce plan coming to fruition and a lot of solid growth associated with Chesterfield County," Williams said.
"All those things combined have made that a very popular location for that kind of product," he said.
Williams said with no other new flex space going up, Ruffin Center won't have a hard time finding tenants.
"I think growth of that market will continue, but we think the next phase will capture a lot of the demand down there."