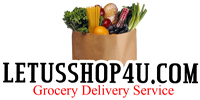 A local couple is hoping residents and businesses want to outsource their grocery shopping.
Two years ago, Lynette Waller and her husband launched letusshop4u.com, an online shopping service that lets people order and pay for groceries and have them delivered.
Customers pay a $5 delivery fee plus a markup on the cost of the items. The Wallers declined to say what the markup is.
Lynette Waller said the business makes about 30 deliveries during the week, and their busiest times are the beginning and middle of each month.
"The trend is the first of the month and every two weeks, usually when people get paid," she said.
Customers must order more than $50 in goods.
Waller said that weekly users spend an average of $74.
And with the recent rash of natural disasters, Waller said business was going gangbusters.
"With the storm, we had about ten $600 orders a week," she said. "People had to replace their whole refrigerators."
The Wallers have some big competitors.  Charlottesville-based Relay Foods, a similar grocery delivery service, added a Richmond operation last year. Relay also has an online system, but customers pick up their groceries.
But Waller said she's not too worried about them.
"I don't feel we're in competition," she said. "Their business model is a lot different."
Waller and her husband, Stanley, both work in finance for a big national bank. They run the business out of their home in Henrico and have four drivers that travel to Wal-Mart to buy the groceries each day.
Stanley came up with the idea for the site after Lynette's mother had a stroke in 2008.
"We were looking for something like this to get heavy items to her house," Waller said. "We couldn't find anything, so we thought, 'Hey we should start this and see where it goes.'"
Within three weeks of throwing around the idea and making a $3,000 investment, Waller had letusshop4u.com up and running.
The site originally started out with a different business model, with drivers traveling to all grocery stores whenever a customer called.
"That was stressful and just didn't work," Waller said.
Last year, they switched to just shopping at Wal-Mart and delivering four days a week.
"Business picked up immediately after the new business model," she added.
When they started, the site had about 10 clients. Through a little advertising and word of mouth, Waller said they've grown to 25 to 35 customers.
Besides residents, the delivery service is also growing its business orders. They've been delivering to a large Shockoe Slip advertising firm for the past month, and Waller said she plans to start marketing to more local companies.
Once business picks up a little more, Waller said she's also looking to start hiring more drivers.