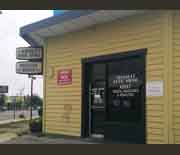 A notorious fixture on North Boulevard has changed hands, and the owner plans to transform the squalid property into a bright spot of the neighborhood.
Charlie Diradour, president of local development firm Lion's Paw Development, bought the building at 1001 North Boulevard that has housed the Triangle Book Store the since the 1970s.
"This is something I've really wanted for a long time," Diradour said. "There is terminology we use in real estate: 'highest and best use.' Well, this was 'lowest and worst use.'"
The 1,300-square-foot facility was built as a Texaco gas station in 1950. In 1973, it was converted into a massage parlor, which evolved into a porn shop that also screened skin flicks in private booths.
The business closed more than a month ago, and the landlord was foreclosed on back in January by Richmond Mortgage Inc.
Diradour bought the building from Richmond Mortgage for $225,000 and says he plans to start rehabbing it right away.
"We're basically going to take the facade away and expose the old Texaco station, with roll up doors facing Boulevard," Diradour said. Dominion Construction Partners is doing the renovations.
Diradour said he is talking to prospective tenants that are local to Richmond and said the property is suited for a small restaurant or coffee shop.
Diradour owns properties in the Fan with restaurant tenants including Buddy's, Kuba Kuba and deLux.
He said he has been eyeing the property for years.
"Three or four years ago, I wrote a letter to the owners inquiring as to the availability but never received word back," Diradour said.
Diradour was driving by this summer and noticed a nondescript "for sale or lease" sign and called right away.
"That was a Friday," he said. "I had a contract to them by Saturday and had the property under contract by Tuesday."
As for the sign on the building, which advertises adult books, novelties and 50-cent movies, Diradour said it is being donated to the Library of Virginia.
Diradour hopes turning around the property will help revitalize the area.
"We need more local entrepreneurs to take part in the development of the Boulevard," Diradour said.