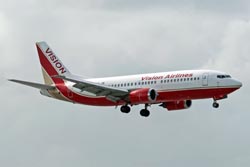 An airline that's new to Richmond is looking to make a good first impression.
Vision Airlines is offering flights from RIC to Grand Bahama Island for $29 each way.
The fare is being offered in Baltimore, Raleigh and Louisville as well. For those flying out of Ft. Lauderdale, the cost is just a dollar each way. The normal fare out of Richmond is $99.
Vision will fly out of Richmond two days a week starting Nov. 4. The promotional fare is good for flights through Dec. 19.
After taxes and fees, the round-trip flight comes out to about $182, as quoted by Vision Airlines online booking.
Vision is based in Suwanee, Ga.