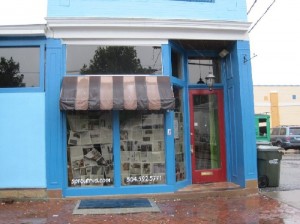 Restaurant, meet your new roommate: trendy computer lounge.
Adam Bell and Harold Lewis are getting ready to open [email protected] — yes, with an @ symbol — a new restaurant that combines food and gadgets in the old Sprout location on North Morris Street near VCU.
"We will have laptops and iPads for people to rent by the hour," said Bell, 27. "It's where food meets technology."
[email protected] will serve lunch and dinner with a menu of small plates including fish tacos, scallops, duck, lamb skewers and grilled strawberry shortcake.
It will also be a place for patrons to catch up on their work, browse the web or check email for just a few bucks.
The 2,500-square-foot space will seat 70 patrons, have a full-size bar as well as a wine bar and two dining areas, one of which will double as a conference room for local business professionals to hold meetings or luncheons.
Bell, who owns neighboring computer repair shop @lbtech, said the back room would also serve as a software-training center where business people get a crash course in Microsoft Excel and other computer programs while grabbing a bite.
"We'll have @lbtech instructors in here teaching the classes," he said.
The former tenant, Sprout, closed Sept. 5 after a yearlong run.
To design [email protected], the pair hired Helen Reed of HL Reed Design, who has done work for the recent Portico restaurant on River Road as well as the Blue Goat.
Bell has operated @lbtech since November 2007. It will be his first crack at running a restaurant, but he's no stranger to the scene.
"I've been doing the marketing and web design for restaurant clients the last two years," he said.
Lewis on the other hand, has worked the local restaurant industry since 1991. For the past 10 years, he was a part of the Richmond
Restaurant Group, and before that he ran Shockoe Bottom bar Area 51 until he closed it in 2000.
The two met about five years ago when Lewis was working on a project for the RRG. Their paths crossed again about a month ago on a project they were both working on, and from there decided to partner up.
"It was time for me to move on," Lewis said. "We're good at what we do and love what we do."
Bell will continue to operate @lbtech part time when [email protected] opens, and Lewis will run it full time. They've also brought on Blair Lester, a former employee of Lewis's at deLux in the Fan, to help run the new spot.
Lewis and Bell plan to open by mid-November and hope [email protected] will stand out among the many surrounding Fan bars and restaurants.
"We know there's competition, and what is going to set us apart is the food and the service," Bell said.