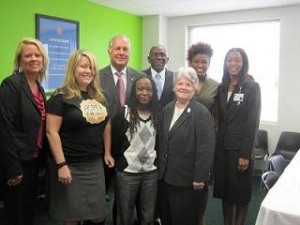 Aspiring entrepreneurs in Church Hill received some cash Monday to help jump-start their businesses.
Bon Secours Richmond Health System awarded $50,000 to six people looking to start or grow a business in the Church Hill area at a ceremony at the Richmond Community Hospital.
The health system partnered with Local Initiatives Support Corporation to create a business plan competition, Supporting East End Entrepreneurship Development, or Seed, as part of an effort to revitalize and grow the business community in Church Hill.
A trash service, a coffee shop, a pie bakery, a hair salon, a bread maker and a janitorial service were picked out of 20 applicants and awarded grants from $4,000 to $10,000. (The entrepreneurs are pictured at left with Peter Bernard, chief executive of Bon Secours.)
Nicole Price, owner of Proper Pie Co., took away a $10,000 grant to start her meat and veggie pie business.
"Right now were rolling out everything by hand, so I plan to use the money to buy equipment and to get a place in Church Hill to start the business," she said.
Noelle Archibald, co-owner of Lamplighter Roasting Company in the Fan, was also awarded a $10,000 grant to open Tall Bike Coffee, a coffee shop that will go in the East End. Archibald is also planning to open the Kickstand, another coffee shop, in Scott's Addition next month.
In addition to funding, the up-and-comers will receive coaching and business planning  services from New Visions, New Ventures, a nonprofit that helps jump-start businesses.
Dougal Hewitt, senior vice president of mission for Bon Secours, said this is part of the health system's three-year pilot program to help spark business in areas along 25th Street and the Nine Mile Road corridor.
"This seed money will make that revitalization occur more rapidly," he said.  "We're hoping the seeds we're planting will thrive."
He said Bon Secours Health System, the parent company, recently contributed $300,000 in loans for Virginia-based startups, which were administered this spring through Virginia Community Capital.