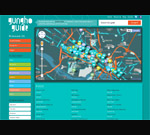 An interior designer and a player in the local publishing industry have teamed up to take the guesswork out of finding the best Richmond has to offer.
In May, Kelly Brown of Kelly Brown Interiors and Christian Detres launched Gungho Guides: maps of the best shops, services, cafes, bars, restaurants and entertainment venues in the city.
BizSense met with Brown and Detres to find out how they pick the spots, how they came together and their plans for expansion.
Below is an edited transcript.
Richmond BizSense: Where did the idea for Gungho Guides come from?
Kelly Brown: I moved here from San Diego. When I went back to visit friends a couple years ago and came across a guide there called Urbanist, I thought, "I wish I had something like this when I moved to Richmond."
It sat on my coffee table for a while, and finally I said, "I'll do it." I started doing research and hired a graphic designer.
I was designing a room for a major client last year and put the guide on the back burner. All the pieces were there. The only missing component was the sales aspect.
RBS: How did you get the project back on track?
KB: In January, I was getting my hair cut, and my stylist said I really needed to meet Christian Detres and that he had worked for Vice Magazine and helped start RVA Magazine.
Christian ended up contacting me, and I realized he was the missing component.
Christian Detres: I've always enjoyed finding and discovering places and getting to the heart of what makes a place cool, exciting and fun. I thought what Kelly was presenting was purely positive. Kelly was my missing link to have a project engrossing enough for me to get involved with.
RBS: Where does your revenue come from?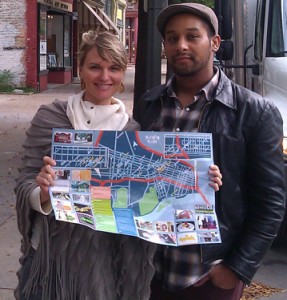 CD: Display ads on the guide and advertising on the website. The listings in the guide are free and are completely curated by us. We pick 120 businesses in Richmond, and from there we contact those businesses and see which ones want to buy a display ad in the guide.
We update the listings once year, as some business may have closed or new ones have opened that we want to include.
Advertising has no bearing on the editorial, if you are not on the list, you can't buy your way into it. But advertising on the website is open to business not on the list.
RBS: Why set the number of listings at 120?
KB: A lot of it is paper restraints. It is meant for tourists, and we don't want to overwhelm them, either.
CD: It is hard. There are a lot of really good businesses that my friends own that aren't in the guide. We had to cut it down from a list of 250.
RBS: How many copies of the Richmond guide did you have printed?
KB: Forty-five thousand.
RBS: I hear you are about to release a Gungho Guide for Charlottesville. Are there other cities in the works?
KB: We are launching Charlottesville in November. From there, we are looking at smaller to midsize cities like Charleston, Savannah and Knoxville.
RBS: What are your criteria for earning a spot in the guide?
CD: We want to appeal to the urban adventurist. The guide is meant to take the place of a knowledgeable insider friend that has been living in town forever and knows all the best spots.
No one is getting in the guide on just one factor. We aren't out to list every dive bar or every fine dining restaurant but the best of those: The best dive bar. The best fine dining restaurants.
RBS: Do you worry that you might be too selective?
CD: We are unabashedly opinionated. In this market, a lesson I learned that the media here tend to be very polite. And that is fine, but I think it is very valuable to have a media vehicle speak its mind and mean what it says.
We want to congratulate people that have gone the extra mile or executed a brand vision quite well.