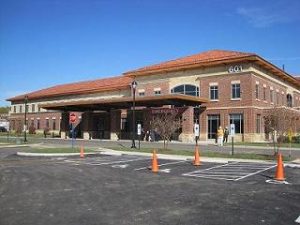 Bon Secours is set to open the first phase of its $30 million free standing emergency center next week.
The 100,000 square foot St. Francis Watkins Centre on Midlothian Turnpike near 288, will open Nov. 1 to residents of Chesterfield, Amelia, Goochland, and Western Henrico counties.
The health care system started construction on the two-story building that sits across from the Westchester Commons shopping area back in February.
St. Francis Watkins Centre contains 16 treatment rooms, as well as a diagnostic imaging center for ultrasounds, MRIs and other outpatient services. It will be the first free standing emergency department for Central Virginia, according to Kevin Sheppard, vice president of ambulatory services at Bon Secours.
A total of 200 jobs will be added with the opening of St. Francis Watkins Centre. About 100 of those positions will be new, and the other half will be nurses and other physicians relocating from other Richmond practices.
The new emergency department is just the first phase of a two building project. On Dec. 5, St. Francis will open the Comprehensive Women's Center, which will go on the second floor of the emergency department and offer bone density scanning, mammography, and other services for women.
The second building, which will open in February, will provide extra medical office space for primary care, gynecology, and obstetrics.
Sheppard said St. Francis was looking to expand with this new center to increase access to emergency services to residents of the growing area.
"We thought it was a better alternative to provide services at an off site location," he said.
Bon Secours St. Francis Medical Center, which is located about five miles from the new center off Charter Colony Parkway, opened in 2005.