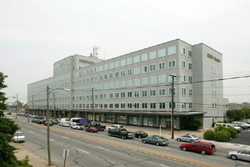 A Philadelphia-based real estate company just picked up a 50-year-old office building and plans to turn it into apartments.
PMC Realty Group purchased the 250,000-square-foot 3600 Centre building at 3600 W. Broad St. for $4.8 million.
The seller, Washington-based Penn Market Properties, decided to unload the property after decades of ownership, according to Eric Robison of Cushman & Wakefield | Thalhimer, who brokered the deal.
"Historically, this was one of the finest suburban office assets for its time," Robison said.
In recent years, its occupancy has waned.
"The state had a large presence there and a few years ago moved out," Robison said. "They were losing the state Department of Taxation at the end of this year, which will take the occupancy from 40 percent to 20 percent."
The new owners plan to renovate the building and convert the six upper floors to apartments. The two lower floors office will be used for office and retail space.
PMC entered the local market in 2009, when it acquired Kensington Court Apartments from Miller & Associates for $9.5 million.
PMC did not return a call seeking comment.