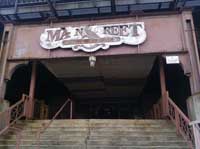 The City of Richmond has a bold plan to revitalize Shockoe Bottom with a $70 million renovation to the train shed at Main Street Station.
Mayor Dwight Jones and his staff on Tuesday unveiled the centerpiece of the city's strategy to induce economic growth in the historic neighborhood.
"We envision Shockoe as a tourism gateway," said Jeannie Welliver, project manager for the department of economic and community development. "It's just waiting to be that."
The two-story concourse, which extends behind the main building of Main Street Station, would be redesigned to become a travel and welcome center and a space for yet-to-be-determined tenants.
The almost $70 million project will be mostly paid for by federal funds, Welliver said.
Construction is slated to start in June, with the grand opening planned for 2014. The project is under design by locally based SMBW Architects and Williams Jackson Ewing, the Baltimore-based firm that designed the restorations of Grand Central Station in New York and Union Station in Washington.
As part of the renovation, East Franklin Street will be extended through the structure, allowing traffic to flow between downtown and Shockoe Bottom. The visitor center will also include bicycle rentals and electric vehicle charging stations, the mayor announced.
"This building is the most recognizable landmark between here and Miami," Welliver said. "It's the last urban memory people have going south, and we are going to use this to create an iconic gem that will captivate people to come here."
As part of the renovations, the corrugated steel that encloses the structure will be removed and replaced with glass, creating an illuminated building that will be visible from Interstate 95.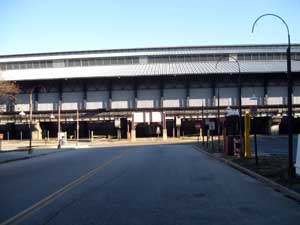 City officials said they believe the project will be instrumental for attracting national retailers and spurring more private development.
Other elements of the revitalization plan include a branding campaign marketing the area as the creative center of the city, public safety enhancements, a revamped farmers market and financial programs to target development.
Peter Chapman, deputy chief of the economic and community development department, said one tool the city will consider using is tax increment financing, in which infrastructure improvements and incentives are funded by special taxes applied within a certain area.
"This tool is used in every virtually every state in the country and other jurisdictions in Virginia," Chapman said. "Richmond has never used it, but we are committed to doing here in Shockoe Bottom."
Part of the city's goal is to draw national retailers into the area, and Chapman said the city plans to hire a retail attraction specialist to reach this goal.
"Richmond as a community is under retailed in terms of national brands," Chapman said. "We need someone waking up every day that is focused on how to cross that divide."
Chapman said the plan is not meant to be taken as a "silver bullet" that will eliminate the challenges faced by the area in one stroke.
"This is about heavy lifting and creating a framework that is favorable to growth and development in Shockoe Bottom," Chapman said.
Also part of the city's plan is an accelerator facility for startup businesses.
The accelerator is being developed by the Richmond Venture Forum and aims to provide capital, office space and advisory services to budding companies in specific industries.
"We have been working quietly with the city since early this year," said Craig Forbes, president of the Venture Forum.
Forbes said the accelerator would consider startups in the life sciences, supply side logistic management and creative and professional services.
Unlike an incubator, accelerator companies don't pay to be a member. They receive funding.
"If you get accepted, you get X amount of dollars of equity money invested in your company. You get a lot of talent and an advisory board. You get six to 12 months, then you are kicked out and another group applies," Forbes said.
The ballpark amount companies would receive would start at about $25,000. About 10 companies would occupy the accelerator at a time, Forbes said.
Forbes said they are still finalizing where the accelerator will be placed in the Bottom. Once they do, Forbes said the next step would be raising money from investors to invest in companies and operate the facility.
"We are confident we can raise money," Forbes said. "We are building this as fast as we can."