Three friends have taken their homemade brews from the kitchen to the garage.
Tom Sullivan, Kevin O'Leary and Paul Karns plan to unveil four varieties of Ardent Craft Ale in Church Hill this weekend.
For the past year and a half, the three have been brewing their ales out of Brickman's Garage on Jefferson Avenue and will introduce them at an open house Saturday.
"It will be a brewing demonstration and sampling of some of the beers," said Sullivan, 35.
O'Leary, 30, who worked as a brewer at Massachusetts-based Cambridge Brewing Company for five years before moving to Richmond last year, said the event also offer some pointers.
"It will be a demo for people who are brewing already and to share some knowledge with people who haven't learned to brew yet," he said.
Sullivan and Karns have been brewing beer for a couple of years, whipping up five-gallon batches in their kitchens.
But the home-based operation slowly started to spill over the sides.
"None of us had a good space," Sullivan said.  "You're limited to what you can brew at home."
They decided that they wanted to try a larger scale.
"We thought we'd test the waters to see if we wanted to go through with this as a real venture," Sullivan said.
They leased the 400-square-foot garage in Church Hill last August and have been brewing their own recipes ever since.
O'Leary said the beers they've been testing are based on pre-Prohibition styles and European and historical recipes.
"What's really interesting to all of us is a shared fascination with historical brewing methods and … [how] we apply them to the reality of today," O'Leary said.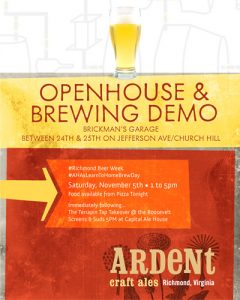 Sullivan added that the group has been working with Tricycle Gardens, using their hops and other products to experiment with different beers.
Sullivan said that they're brewing about 15 gallons at the garage and that it takes about three weeks to turn a batch around.
Ardent Craft Ales isn't the first to try its luck in the local brewing scene. Legend Brewery dominated the Richmond market for 17 years, and Hardywood Park Craft Brewery opened its doors last month.
The friends only hold the brew master title part time. Karns works as an art director for Capital One, Sullivan works as an IT manager for Pfizer, and O'Leary helps with mobile food business Pizza Tonight.
Although its still in the planning phase, the business partners are working to nail down some financing and find a permanent location to open up a brewery in the next year or so somewhere in the city.
"It's a shoestring operation right now," Sullivan said. "The ultimate plan from there is to distribute locally via draft and some bottle accounts."