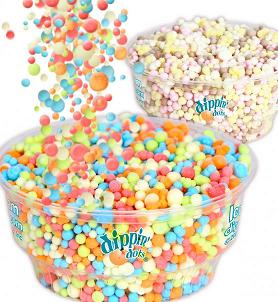 The finances of an ice cream chain with three Richmond locations have started to melt.
Novelty ice cream maker Dippin' Dots filed Chapter 11 bankruptcy Thursday night in federal bankruptcy court in Kentucky.
The Paducah, Ky.-based company said the filing was to avoid foreclosure on more than $11 million in loans owed to Regions Bank, its largest single creditor.
Dippin' Dots sells frozen beads of ice cream with flavors like vanilla, chocolate, banana split, birthday cake and cotton candy in amusement parks, malls, theaters and franchised store locations.
The chain, which launched in 1988, has about 140 retail locations and 9,952 small vendor operations.  It has three locations around town: at the Siegel Center, the Diamond and in the Greater Richmond Convention Center. It also had a setup at Kings Dominion.
A statement released by the company said the franchise will not be affected  by the filing and will continue to operate.
Regions Bank, which is based in Alabama, sued the chain in February for defaulting on several loans, according to Associated Press reports. The suit is pending in McCracken County Circuit Court.
In the bankruptcy filing, Dippin' Dots listed about $20.2 million in assets and more than $12 million in liabilities. It listed $27.7 million in income through September, $26.7 million in income in 2010 and $33.8 million in 2009.