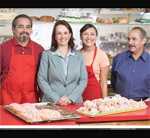 There are a lot of warnings out there about how family and business don't mix and plenty of horror stories of family feuds and succession gone wrong. But family businesses are a big part of the economy, accounting for roughly three-fourths of all businesses globally.
With that in mind, three professors from University of Richmond, Virginia Commonwealth University and Longwood University set out to explore how family involvement effects the financial performance of companies.
The research was conducted by Jeff Pollack, a professor at UR's Robins School of Business, Matthew Rutherford of VCU's School of Business and Ernest O'Boyle Jr., a professor at Longwood.
Their findings, gathered in a report called "Exploring the relation between family involvement and firms' financial performance: A meta-analysis of main and moderator effects" will be published in the Journal of Business Venturing in 2012.
The article explores the family as the primary economic unit in human history and the advantages and disadvantages that come with operating such a primitive form of organization within modern markets.
BizSense spoke with Pollack last week about the research. The following is an edited transcript of that conversation.
Richmond BizSense: Why did you choose to study family involvement in business?
Jeff Pollack: If you ask someone if you want to go into business with your family, people were really conflicted. It's a heated debate. It's a loaded topic. There's data and anecdotal evidence on both sides. We wanted to answer the question, 'Is there a relation between family involvement and performance?' Based on our data, there's not.

RBS: Did that conclusion surprise you? Did you have preconceived notions about a family business?
JP: I wouldn't say we were surprised. But this is a really interesting finding. Going in, we knew there were a lot of articles and theory to support a positive relationship between family involvement and a business's performance. And there were also a lot to support a negative relation. In the article, we actually left it as an open question.
RBS: When you think of family business issues, stories come to mind of relatives fighting over money or the idiot son being put in a position of power. Are those instances few and far between?
JP: There are some case studies where family businesses are run really well. There are some where they are not run really well. Those case studies are interesting, and they're useful. We wanted to summarize all the empirical evidence that's out there.
RBS: What are some examples of successful family businesses?
JP: There are a couple of really well known family businesses out there. There are two that come to mind. One is called Grand Frame, which is based in Chicago. It's been around for about 35 to 40 years. Another is Christopher Ranch, a company that was started in the 1890s. They make garlic. It's a very cool family owned business.
RBS: In your research, you tie the idea of family units to evolution and discuss how they help foster survival. But can that really translate into modern business?
JP: There are a lot of reasons, both theoretical and empirical, why family involvement would be good. One is the evolutionary perspective. On one hand, having family involved may bring more incentive to stay together or closer ties. On the other end, sticking by your kin [just because they are kin] could be bad. That's why we left it as an open question.
RBS: What do you hope readers can take away from the findings of your study, particularly those who are in a business where there is a family dynamic?
JP: I often get asked by people whether they should go into business with family members. Based on this new research, I can tell them that, in terms of financial performance, having more family involved in a business is neither a help nor hindrance. There are a lot of things that should be considered, such as family harmony, relationships, leadership and succession issues. Those are really interesting topics to consider.
RBS: Is this an aspect of business that is widely studied? How can you expand on your findings to get a more concrete answer?
JP: It's a huge area. We found so many different definitions of family involvement that I think in the future it would be nice to further dial in on what exactly is a family business and how does it differ. Why are family businesses different? If it's not performance, what is it?
Further Reading/Listening:
New Freakonomics Radio Podcast: "The Church of 'Scionology'"
Michael Schwartz is a BizSense reporter. Please send news tips to [email protected]