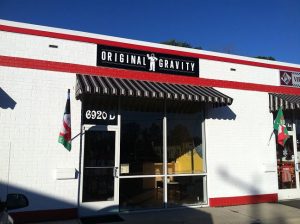 After brewing beer at home for more than two decades, Tony Ammendolia decided to begin supplying like-minded hobbyists.
Ammendolia, 41, this week opened Original Gravity, a beer and wine kit shop in Lakeside.
The kits sell for about $80 and include a fermentation bucket, a bottling bucket, sanitizer and a hydrometer, which measures the density of a liquid.
Ammendolia said the name for the store came from the hydrometer.
"When you take the initial gravity reading, it's called original gravity," he said.
The wine equipment kits, which come with a glass jug, run about $129. The ingredients kits cost about $35.
Ammendolia said he's been cooking up brews for almost 20 years and began while attending Virginia Commonwealth University.
"Me and my roommates in college decided we'd give in a try," he said. "I was brewing every week."
Ammendolia said he used to brew about five gallons in one batch, or 48 bottles of beer.
Before turning his passion into a business, Ammendolia spent the bulk of his career as a manager for two local natural food retailers.
The beer lover said he gravitated toward starting his own business to fill a gap in the Richmond market.
"There aren't any of these shops in the Richmond area," he said. "I felt combining something that I know and something that I love was a good opportunity."
After a three-month search, Ammendolia leased a 1,000-square-foot shop at 6920 Lakeside Ave. in October.
Original Gravity opened Wednesday, and Ammendolia said he sold four or five kits the first day.
"I sold kits to some people that have been brewing over 20 years and brewing 15-gallons batches, and I sold some kits to people who never used brew kits before," he said.
Ammendolia said he plans to start working with startup breweries and local wineries.
"I'm looking at contacting local vineyards to get actual grapes that are grown in this area," he said.
Ammendolia added that when the shop gets up and running he plans to offer some home-brewing classes.
"A lot of people are curious but maybe a little intimidated about it," he said. "Educating people is my focus."