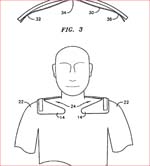 Surely a hobby — especially one as popular as cycling — shouldn't be this dangerous or painful.
Tom Doyle, 63, grew tired years ago of skinning his shoulders in spills from his bike. Add in a broken collarbone and a dislocated shoulder, and Doyle knew there had to a better way.
So the avid cyclist did what any mechanical engineer would do: He went back to his garage in Midlothian, fashioned some lightweight shoulder pads, cut-up neoprene knee braces and went right back to riding.
Doyle has since taken the idea beyond weekend tinkering. He just landed his second patent for his "universal shoulder protector," and, with the prototypes ready and road tested, he plans to turn the idea into a full-blown business.
Doyle, who retired three years ago from Philip Morris, says he sleeps four hours a day, bikes three days a week, has his own cycling academy called Smart Cycling Academy and likes to fix up old Rolls Royces.
He recently put down his tools long enough to tell BizSense about his latest invention.
The following is an edited transcript.
Richmond BizSense: When did the light bulb flick on in your head for this idea?
Tom Doyle: When I got into cycling, I very quickly went down a couple of times and dislocated a shoulder. I had the first accident in about 1992. You tuck and roll to not let the head smash into the concrete, which means you wind up on your shoulder. I thought, "This is stupid. I need to get something to protect my shoulders."
RBS: How did this go from something you made to protect yourself to something that could be a moneymaker?
TD: It wasn't until 2002 that people I race with said, "What are you putting under your jersey?" More and more guys looked at them and asked me to make them a pair. People said, "You know, you ought to patent these and just produce them." It's just one of those classic stories.
RBS: So you have the patents. What's next?
TD: This winter I plan on starting production for the first set to actually put in stores and sell and more importantly approach the owners of the pro cycling teams, the Lance Armstrong-type teams, to show them it's a simple solution to protect these million-dollar athletes. The retail on them will be around $50 or $60. The first run of 2,000 units, I'll give away to the pro teams. From there it's a domino effect.
RBS: Can you describe the pads?
TD: I use closed-cell foam like the kind in neoprene knee braces. It doesn't weigh anything, but it pads the heck out of your knees. It goes under your clothing. That's the beauty of it. These will slip right underneath a T-shirt and I have a method of getting it to adhere to whatever fabric. What I bring to market will be encapsulated in a Gortex membrane. It's a high-tech item.
RBS: Are you targeting just cyclists? Or is there a bigger market?
TD: Anyone that's subject to injuring their shoulders: snowboarding, skiers, motorcyclists and skateboarders.
RBS: Is this the first time you've patented one of your ideas?
TD: I invented something and applied for a patent 30 years ago. It was a tricycle. I have a list of useful things I would like to invent.
RBS: Are you one of those guys who can just fix anything?
TD: I'm a mechanical engineer. I grew up watching "Little Rascals" and watched them make stuff. We didn't have any money to buy stuff. So we just made stuff. I grew up on a 400-acre farm. Both parents were in the Great Depression. We were imprinted that you don't throw stuff away. You fix and you make it better. It's a God-given gift. I kind of take it for granted. It's like Willie Nelson writing songs.
RBS: But this is the first time you've taken an idea to the next level — making something you could actually sell?
TD: This is the first time I've attempted this. I've got several entrepreneurs who are mentoring me in the dos and don'ts. I don't need any private investors in the background — at least to produce the prototypes.
RBS: Where will the first run of 2,000 be manufactured? Can you do it yourself?
TD: They'll be manufactured out of Richmond. I have several sources. The actual labor requires some stitching. I don't want to go to China to get anything produced. That's just me, because I grew up on a farm in Dinwiddie County. If they take off like bike helmets, China is just going to start producing their own anyway.
RBS: You're 63 and retired. Do you want this to become a new career?
TD: If they take off, ultimately I'd rather let a specialized bike company license it and let me go free myself up and do one of the 20 other things I've jotted down on notebooks.
Plan B is just to produce them and carry them in local shops and sell them on the Internet and let the grandkids have fun with that.
Michael Schwartz is a BizSense reporter. Please send news tips to [email protected]