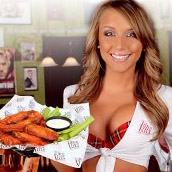 A Celtic-themed pub and sports bar chain is coming to Fort Lee.
The Tilted Kilt has signed a 10-year-lease for 6,358 square feet at 2070 Waterside Road in Prince George, according to Taylor Long Properties.
The original Tilted Kilt opened in the Rio Hotel and Casino in Las Vegas in 2003. That location closed, but the chain has more than 50 locations in 20 states and Canada.
According to its website,  the pub is a: "Celtic-themed sports pub staffed with beautiful servers. And guess what the uniforms would be … knee-high socks and short, sexy plaid kilts with matching plaid bras under white camp shirts tantalizingly tied to show off the midriff."
The Richmond-area franchise will take over the space of a former Uno Chicago Grill. The owner of the franchise is Amir Patel, who previously opened the Extreme Pizza and Great Wraps locations near Virginia Commonwealth University.