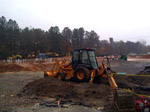 The local franchise of an extended stay hotel chain is expanding its presence in Richmond with a second hotel, and site work is under way at West Broad Street and Glenside Drive.
Carter Rise, principal of Sandpiper LLC, opened the Richmond area's first Value Place in Colonial Heights in 2009. Value Place was launched in 2003 and is based in Wichita, Kan.
The new location is at 6900 W. Broad St. on the site of the former Steak & Ale restaurant, which was demolished. Rise acquired the parcel last January for $650,000.
Rise did not want to talk about the project, but, according to the plan filed with Henrico County, the 45,076-square-foot hotel will have 124 rooms.
The Colonial Heights location advertises rates starting at $229.99 a week. Rooms include a kitchen. Rise also owns the Value Place in Chesapeake. (BizSense spoke with Rise in 2009, when he opened the Colonial Heights location.)
Kyle Rogg, chief operating officer of Value Place, said the hotel chain has 175 locations nationwide and draws 50 percent of its sales from business travelers.
The rest is a mix of vacationers and "people that are between houses and need a place to park while they are moving from a rental to a home," Rogg said. "We have a few people that live with us."
The hotel is being built next to another extended stay hotel called Extended Stay Deluxe. About eight other hotels are located in the area around the Interstate 64 interchange. The 372-room Ramada closed last month after more than 30 years of operating under various brands.
Rogg said Value Place carefully selects its hotel locations.
"We've got some pretty stringent criteria that don't guarantee success but certainly improve the odds," Rogg said. "We have someone look at the data in the dirt to see if we think it has a good chance of winning."