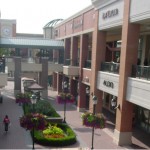 If you bring your cell phone to Short Pump Town Center this holiday season, prepare to be followed.
Mall operator Forest City Enterprises is deploying a technology that will allow them to track the movements of cell phones within the mall to study shoppers' habits and see which stores they visit.
The system, called FootPath Technology, is being used at two malls this year: Short Pump and Promenade Temecula in Southern California. Forest City will track customer movements from Black Friday through New Year's Day.
More from CNNMoney:
The management company of both malls, Forest City Commercial Management, says personal data is not being tracked.

"We won't be looking at singular shoppers," said Stephanie Shriver-Engdahl, vice president of digital strategy for Forest City. "The system monitors patterns of movement. We can see, like migrating birds, where people are going to."

Still, the company is preemptively notifying customers by hanging small signs around the shopping centers. Consumers can opt out by turning off their phones.
The system, manufactured by British company Path Intelligence, has been used in Europe and Australia.
Other U.S. retailers, including JCPenney and Home Depot, are considering using it within their stores.