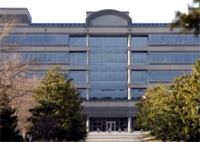 Maybe the view from the top floor was too good to pass up.
After initially leasing four of five floors, locally based travel insurance company Mondial Assistance decided to lease all five floors of the Deep Run I office building in Western Henrico.
Correction: An early version of this story and the Daily NewsFeed erroneously referred to Deep Run II rather than Deep Run I.  
In May, Mondial leased the first four floors — about 240,000 square feet — of the former Circuit City headquarters building.
"We thought with our continued growth, we would need that fifth floor," said spokesman Daniel Durazo. "So we agreed to lease it."
Mondial previously had an option to add the fifth floor, but the landlord was still shopping it around to potential tenants.
A group of local investors led by Pruitt Associates purchased the building in late 2010 for about $6 million after the owner of the building defaulted when it lost its tenant (Circuit City).
Michael Pruitt, who spent close to a year trying to buy the building from a special servicer, said the building is designed for a single tenant.
"We didn't know if a tenant would come in and [lease the whole building], but it really worked our great for them and great for us," Pruitt said, adding that the interior designers will have an easier time now that they know the entire building will be used by one tenant.
Mondial has about 900 employees in Richmond and plans to expand to about 1,000, Durazo said. The company is scheduled to move into its Deep Run digs by the end of 2012. Mondial presently leases space on Parham Road and at Innsbrook.
Meanwhile, the new local owners of the other Circuit City building are still looking for tenants. Diversified Realty Ventures and Markel/Eagle joined forces to purchase Deep Run III for $12.4 million.
The two Deep Run buildings are connected by a breezeway.
Aaron Kremer is the BizSense editor. Please send news tips to [email protected]