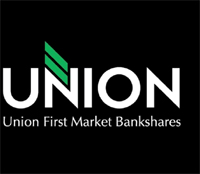 Richmond's biggest bank is getting the TARP monkey off its back.
Union First Market Bank said Thursday that it received approval to buy its way out of the TARP Capital Purchase Program by paying the U.S. Treasury $35.6 million.
Union will be the first locally based bank to completely get out from under TARP, which was created in 2008 to bolster banks with capital amid the recession.
Union chief executive Billy Beale said he is pleased that the bank didn't have to raise extra capital to make the payoff.
"I think there's the perception that if you have it, it either means that you need it, you can't pay it back or you're going to have to raise capital in order to do it," Beale said.
Between 2008 and 2009, eight local banks participated in the program, receiving a combined $191 million. In exchange, the banks gave the government thousands of shares of their stock.
Union's TARP situation varied from the other local banks because the bank was born out of the 2010 merger of Union Bank and First Market Bank, both of which were TARP participants.
Union Bank, which at the time was based in Bowling Green, Va., received $59 million in TARP capital. First Market, which was headquartered in Shockoe Slip, took $33.9 million.
Union Bank paid off its share in December 2009, just before the merger. First Market's part will be paid off Dec. 7.
The payoff will come straight from the bank's coffers, thanks mostly to the fact that First Market didn't burn through all the TARP cash before the merger.
"When [First Market] received it, they invested it bonds," Beale said. "So when we acquired them and got the cash, that's where we've been holding it."
Because Union Bank was considered the acquirer, the successor bank wasn't considered a TARP bank and therefore wasn't bound by its usual provisions and restrictions.
Nevertheless, the stigma stuck, Beale said.
"The market still considered us a TARP bank, and it impacted our stock price," Beale said. "We're hoping that over the next month or so we'll start to see our stock price drift up."
Because the Capital Purchase Program was part of the TARP, it was widely labeled a "bailout" when it was introduced.
Had banks realized at the time that taking the money would lead to a tarnished image, Beale said many bankers would have thought twice.
"I don't think any of us expected it to have as a big a stigma after the fact as it did," he said. "We were making decisions in the fall of 2008, when it seemed like the world was coming to an end. When somebody is offering you capital and all you had to do was fill out a two-page application to get it, it seemed like a smart thing to do at the time."
In hindsight, Beale said, he's not so sure it was the right move for Union.
"In our case, I'm not sure it was worth it," Beale said. "We are healthier. We're not under a written agreement. We haven't lost money all through this cycle. As it turned out we really didn't need it."
Michael Schwartz is a BizSense reporter and covers banking. Please send news tips to [email protected]