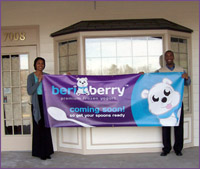 Another challenger with big ambitions is getting ready to enter the frothy frozen yogurt business with its first location in Chesterfield.
The owners of Beriberry are planning to open a 1,600-square-foot frozen yogurt shop at 7000 Commons Plaza in Chesterfield that will have seating for about 40 people.
"We wanted to have a shop that allowed for more space for families with younger children to come together and enjoy a nice family environment," said Ayanna Richardson, who is opening the business with her husband, Shawn.
Richardson has been a stay-at-home parent for the past five years. She previously worked in human resources for Chesterfield County, whose government complex is located across the street from her new frozen yogurt shop.
"I worked there for years, and people there always need something quick, easy and fast to eat," Richardson said.
Richardson also has worked for Capital One, where her husband still works.
Richardson didn't share startup costs but said the venture is self-funded, with her husband's parents investing as equal equity partners.
The idea to open up a yogurt shop came from their daughter, 11, who became hooked on the product of one of Richardson's soon-to-be competitors. The Richardsons also have a son who is 5.
"Our kids love it, and we love it, too. So we thought, 'Why not start something on our own?'" Richardson said.
Richardson said they would like to franchise the business eventually and maybe open a few more locations of their own.
Beriberry will enter the market facing a couple of established local operations, the largest of which is Sweet Frog.
Richardson refers to it as "S.F."
"We don't say the whole word in our house anymore," she said.
Sweet Frog, which opened its first location in Short Pump in 2009, now has more than 40 locations throughout Virginia, South Carolina and North Carolina. Bobalicious, another local chain, has four locations.
Yapple Yogurt from Pennsylvania is opening a frozen yogurt shop a few doors down from Sweet Frog's store in Carytown.
Richardson said she isn't intimidated by all the competition.
"We will be competitive in the area, with an equal amount of yogurt machines and quite a few toppings. We will offer 50-plus toppings to our customers," Richardson said. "We will be offering some other products as well to differentiate from more than just traditional frozen yogurt."
Frank Galleher, a broker with Grubb & Ellis | Harrison & Bates who helped leased the property, said that frozen yogurt shops are a big trend.
"It seems to be a hot spot. Most of these have been franchise orientated, with Sweet Frog taking over big time," Galleher said.
As for the Richardsons, he said they should do just fine.
"They've gotten into that market area first before anybody else, Galleher said. "I think they should do well."