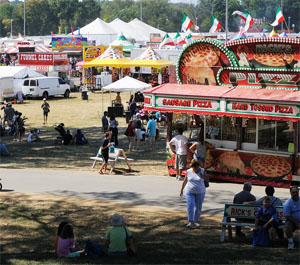 After filing for bankruptcy protection last week, the State Fair of Virginia said it aims to quickly return to solid financial footing.
But one of its largest creditors isn't so confident.
ArborOne, a South Carolina lender on tens of millions of dollars of bonds owed by the fair, last week asked the federal bankruptcy court to let it keep its right to take action on its collateral, which could include foreclosing on the 360-acre Caroline County property the fair calls home.

Given the massive size of the fair's debt, the diminished size of its investment portfolio and the apparent instability of its day-to-day finances, ArborOne argued in its motion that it doesn't see how reorganization is possible and wants to make sure it's covered.
ArborOne "contends that there is cause for relief because the debtor has not and cannot service the debt and will not be able to confirm a feasible plan," the lender argued in its filing.
Known in legalese as a "relief from stay," such a motion is common in bankruptcy when a creditor wants to ensure it has the ability to retain its collateral, which in most cases includes foreclosing on any real estate collateral.
The SFVA, the nonprofit operating unit of the fair, filed for Chapter 11 bankruptcy protection Dec. 1 after it got caught in a web of financial dealings that left it unable to meet some of its debt obligations.
With more than $80 million in debt that includes various types of bonds, government-backed loans and something called a "notional amount swap," the fair was immersed in maneuvers far more complex than making funnel cakes.
ArborOne's discomfort, according to its filing, stems from its belief that the SFVA has no buyer in place to bail it out, no new known source of capital on the horizon and no replacement lender.
SFVA is also expecting to burn through $1 million in December and January alone, according to the ArborOne's motion.
ArborOne argues that despite generous concessions to the SFVA over the past two years, the value of the fair's collateral — an investment portfolio that cratered 2008 — was below the required threshold. ArborOne also said it's concerned because had the SFVA not filed for bankruptcy protection, it would not have been able to pay its required interest payment in December. The SFVA admitted as much in its filing.
"Since SFVA is operating at a dramatic loss and the hope of future sale or refinancing is not enough to demonstrate the potential for reorganization, it cannot be said that an effective reorganization is likely or that the collateral is necessary for an effective reorganization," the motion argues.
The lender also argues that there isn't enough equity in any of the fair's property, both real estate and business related, to cover its debts to ArborOne.
For example, SFVA owes $25.9 million on its corporate bonds. That amount is secured by $20.5 million from an investment portfolio and the value of its Meadow Event Park.
The fair also owes $49.1 million in tax-exempt bonds, also secured by its real estate and other business property, which would include accounts receivable and the like.
"In essence, [ArborOne] is wholly undersecured by all accounts, and there is no equity in the collateral for the benefit of the Debtor's estate," the motion says.
Michael Mueller, ArborOne's local attorney with Christian Barton, did not respond to requests for comment.
Christy Myatt, an attorney with Greensboro-based Nexsen Pruet, which is also representing ArborOne, said she could not comment on the case.
Jonathan Hauser, an attorney with Troutman Sanders in Virginia Beach, is representing SFVA. He also did not return a call by press time.
Michael Schwartz is a BizSense reporter. Please send news tips to [email protected]