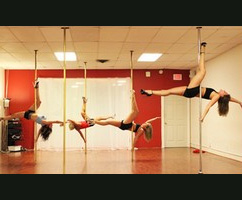 Pole dancing has gone mainstream.
Just ask Kate Austin, a former exotic dancer who opened Studio X in 2005. The studio teaches classes for anyone who wants to learn how to pole dance, belly dance or perform other sensual gyrations. And business has been good.
"I can't even tell you how many folks have been through here. Thousands of people," Austin said.
At the end of this year, Austin is leaving her original location on Broad Street near the Boulevard for a larger space at the Interchange Corporate Center at 3850 Gaskins Road.
"We have been in our current location for six years," Austin said. "It's a pretty central location, but I think that the business would be more accessible if it was a little bit closer to the interstate."
A basic pole dancing class lasts 75 minutes and costs $35. Packages and memberships are available.
The new 1,525-square-foot space will allow for an expanded class schedule and even more dance poles.
"We have five now. At the new location, we will have seven or eight," Austin said.
Austin has six employees who teach classes, one of which is a former student.
As to how the business was received in her recent search for real estate, Austin said she didn't feel like there was any stigma attached.
"It's better received now than when I first opened," Austin said. "In my most recent research, I did have one person who decided not to rent to me. I don't know if it was because it was a pole dance studio or because there was already a yoga studio and personal trainer there and thought it might be competition for them."
Over the past decade, about 500 pole fitness studios have cropped up across the country, according to an AFP news report. The Pole Fitness Association and other groups are even petitioning to have pole competition accepted as an Olympic sport for the 2012 games in London.
Studio X will close its current location at the end of the month and reopen in January.
In February, Austin plans to introduce another gravity-defying exercise option: aerial yoga.
"It's like a yoga class, but you use a harness. For a lot of the postures it is easier on your neck and back," Austin said. "We have an instructor in Colorado training for that."
Read more: Pole dancing: seedy show or Olympic sport?