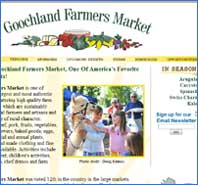 After a boardroom controversy shut it down in March, a local farmers market is sprouting back to life.
The Center for Rural Culture, a nonprofit that promotes and educates local farmers, is bringing back the popular Goochland Farmers Market.
The market was canceled in 2011: The organization spent the year smoothing over a rift that erupted when its former executive director claimed she was ousted for speaking publicly about how the board of directors had handled the center's money.
But the dust has settled, and Keith Flannagan, a member of the CRC board, said the public is clamoring for the market's return.
"We had a lot of people come to us wanting us to do it," said Flannagan, who will manage the market for 2012. "We went back and forth and decided to do it this year and see how it works out."
The market will be back in May and will run through October at Grace Episcopal Church.
Flanagan expects about 40 vendors will sign on with about 25 setting up at the market each week selling meat, vegetables, bread and other products.
The CRC board cancelled the market for 2011, it said last March, because it wasn't sure Goochland County could support two farmers markets.
The competition sprang up when Lisa Dearden, the group's former executive director, started her own market in Manakin. It was originally called My Goochland Market but has since changed its name to My Manakin Market.
"The board was just worn out at that point," Flannagan said. "They had been put through so much with the allegations."
Dearden at one point demanded an independent audit to clear up an alleged $30,000 discrepancy in CRC's books and called for the resignations of the board's current and past president and treasurer.
An audit found there was no misappropriation of any money.
"People are ready to get past all that, and now we're done with it," Flannagan said. "We're going to go back to our roots."
Those roots include the market, which will be in its sixth year, and classes for crafts such as canning, cheese making and homesteading.
The market's vendors come from Goochland, Powhatan, Louisa and several other surrounding counties.
The CRC has yet to hire a new executive director.
Its annual budget is barely $20,000, so it would have to find donations or grants to fund the salary of a new executive director.
"This is not the economic time to do that," Flannagan said.
Executive director or not, the spat with Dearden allowed CRC to elect all new board members, which Flannagan said will bring a fresh perspective after all the drama.
"I think we're stronger then we were before," Flannagan said.
Michael Schwartz is a BizSense reporter. Please send news tips to [email protected]