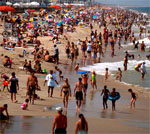 Virginia Beach's long history as a major vacation destination made it a natural for the second-home market as far back as the 1940s. Betsy Atkinson, with Atkinson ERA Realty, recalls selling oceanfront lots there to Richmonders for $4,000.
Prices haven't fallen that far their peak but they are down, Atkinson said. "The biggest collapse has occurred with inland properties – that's where the most short sales, foreclosures and auctions have occurred," she said. A short sale is one in which the house sells for less than is owed on its mortgage and when the sale is approved by the bank holding the sellers' mortgage.
Brokers across second-home markets generally agree that second-home sales have increased this year over 2010, which was better than 2009 and 2008. Prices have come down, they say, fueled by sellers who decided not to wait any longer for prices to go back up and by buyers anxious to cash in on bargains.
The beach
In 2008, 50 second homes were sold on the popular North End of Virginia Beach (extending from the Cavalier Hotel in the north to the entrance of Fort Story), with 12 on the ocean-side selling for between $395,000 and $2.9 million. In 2009, 55 sales included 13 ocean-side properties selling for $375,000 to $3.3 million. In 2011 there have been more than 60 sales in the North End, with 23 sales on the ocean-side, but the big difference is that houses have sold for $270,000 to $2.2 million. "A house I sold on 71st Street was listed for $1.2 million in 2010 and sold this year for $800,000. A house listed in 2009 for $1.7 million just sold for $1.1 million," Atkinson said.
At Sandbridge, which is sort of Virginia's 'Outer Banks' with the Atlantic Ocean on one side and Back Bay on the other, prices also have dropped. There have been more short sales there because there was more speculative investment than in the North End, Atkinson said.
Northern Neck
Volume also is picking up on in the Northern Neck, the area between the York and Potomac rivers, said David Dew with IsaBell K. Horsley Real Estate Ltd.
"Less than one percent of waterfront sales have been involved in short sales, auctions and foreclosures. Those are further inland. But 75 percent of waterfront sales have been for less than the asking price."
Real-estate agents on The Neck say it's not possible to differentiate between primary and secondary homes because retirees want the same thing as second-home buyers – i.e., waterfront. Soon-to-be retirees often purchase a weekend home, which becomes a primary home in two or three years. Beverly Shultz, associate broker for Long & Foster in White Stone (Lancaster County) said the market has hit bottom. But she added, "Buyers are really trying to test the bottom with their offers. One sale where the property had been listed for its assessed value, $990,000, brought $900,000, and the owner had paid $950,000 for it."
The Outer Banks
The Outer Banks of North Carolina may have been even more overbuilt.
Chris Toolan, a broker and business-development director at Resort Realty in the Outer Banks, said that 2011 commercial sales in the Outer Banks were up 42 percent over sales for 2010. Potential short sales' listings for the same time period were up 32 percent over 2010. He said prices on single-family, detached vacation homes fell 6 percent since the end of the third quarter 2010, while prices of attached homes or condos have fallen 12 percent over the same period.
Toolan said it's too soon to call a recovery at the Outer Banks.