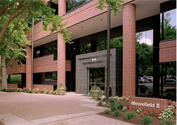 A deal to sell five Richmond office buildings was announced last week as a Florida REIT is unloading the last of its local real estate holdings.
Orlando-based Parkway Properties struck a deal to sell 412,000-square feet of office space in Richmond to Santa Monica, Calif.-based Hertz Acquisitions Group. 
The deal is expected to close sometime during the first quarter.
The five local properties involved in the deal include Boulders Center, which at 140,858-square feet is the largest building in the group; Moorefield I, Moorefield II, and Moorefield III, comprising a total of 145,000-square feet located off Midlothian Turnpike; and the Winchester Building, a 126,000-square foot-building on Midlothian Turnpike.
The company did not say how much each Richmond property fetched in the sale.
Parkway CFO Richard Hixon did not return a call by press time.
All five properties are debt free, according to Parkway's release and have an average occupancy rate of 76.7 percent. Moorefield III is performing the best of the group with a 96.7 percent occupancy rate as of Sept. 30.
Parkway's Richmond properties were packaged with 10 other buildings in Jackson, Miss. and Memphis, Tenn. In total, the company sold 1.9-million square feet of space to Hertz Acquisitions for a total of $147.5 million.
Parkway previously sold another property to one of the area's most active buyers.
Last August it sold 7130 Glen Forest Drive to Lingerfelt Development for $9.3 million. You can read more about that here.