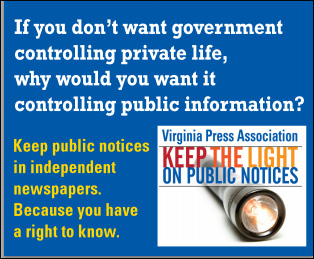 For the past few years, Del. Steve Landes has introduced a bill in the Virginia General Assembly to change the laws that require localities to publish public notices as paid advertisements in newspapers.
And each year the newspaper association lobbies to prevent that from happening. But while Landes' plans for 2012 aren't clear yet, the newspaper lobby is pre-emptively fighting any rule changes that would let local governments pick from a slew of options.
His bill seeks to save localities money by allowing them to use arguably cheaper alternatives to paid print ads, such as online postings. It's a move the newspaper industry argues would make government less transparent – but it also threatens to further cut into newspapers' dwindling ad revenue.
Trying to head off an expected renewed assault by Landes in the 2012 General Assembly, the Richmond-based Virginia Press Association, the state newspaper industry's lobbying group, has launched a campaign called "Keep the Light On."
The struggle comes at a time when newspapers are desperate for every ad they can get and when localities are pinching pennies.
The newspaper industry, with the VPA by its side, stands firm that the campaign is less about a potential loss of revenue and more about keeping government open and honest.
"Readers, stand ready to help newspapers in an expected battle over public notices and government's desire to keep you in the dark," Richmond Times-Dispatch Publisher Tom Silvestri wrote in an editorial in September.
The Times-Dispatch has been highlighting the notices with banners that read "Your Right To Know" on the front page of its Metro section.
"The newspapers that comprise the Virginia Press Association strongly maintain that government cannot — and should not — simply notify itself about important public meetings and requirements," Silvestri wrote. "Newspapers' missions are built on the ironclad fact that citizens have a right to know what their government is doing."
The public notices targeted by Landes' bills include planning commission proposals, public meetings, and similar announcements that localities are legally bound to publish in newspapers.
He has not gone after legal notices, those that advertise foreclosures, divorces, adoptions and are these days a cash cow for newspapers just as other ad sources have plummeted.
Landes has proposed that localities should have the option to run notices on a combination of two of the following: a newspaper's website, on a local government website, public access channel, automated voice and text systems, and at public libraries.
The bill, as it was introduced last year, would also require localities to choose the options that in "a manner gauged to ensure that the maximum number of persons within the locality are likely to be informed of the existence and content of the proposed action."
Those other forums are good as additions to print, VPA Executive Director Ginger Stanley said.
"We're also in favor of notices going online because we believe the more citizens see what government is doing is a good thing," Stanley said.
But excluding print completely is counterproductive, she said.
"The citizens need to know that the locality is placing a new jail near their land or a new road is going to cut through their land," Stanley said. "This is all about what the government is doing on behalf of the citizens."
Stanley recognizes that it's a tough sell for the newspaper industry to make because, while it preaches government transparency, it also has considerable skin in the game.
"It's very difficult for newspapers to argue this fact because these are dollars that go into newspapers," Stanley said. "It is seen as a loss of revenue for newspapers."
The problem with both sides' arguments is that there are few numbers to back them up.
The VPA only states that revenue from public notices is a "small percentage of the dollars that newspapers receive from advertisers."
Ray Kozakewicz, spokesman for Media General, the parent company of the Times-Dispatch, said the company doesn't release those specific revenue figures.
Stanley said Landes has never produced numbers to show how much local governments spend each year to publish public notices. Nor are there figures on how much could be saved by using the proposed alternatives.
Landes could not be reached for comment.
The VPA said it found that the amount of money spent on public notices is less than .1 of 1 percent of localities annual budgets.
"The argument has always been that it would save [localities] money," Stanley said. "That's not a proven fact."
She argues that localities would spend more on having to revamp and secure their websites to make sure public notices are maintained online properly and for the required periods of time and without interruption.
"There's a great cost to local government to become equipped enough to do this," Stanley said.
With the 2012 General Assembly just kicking off, it's unclear when Landes will renew his fight on the issue.
A message left with BizSense by Landes' office said he has not yet come to a decision as to exactly what he is going to do with the issue this year.
"He vowed last year that it would be back," Stanley said of Landes legislation. "Every year it has gained a little more traction."