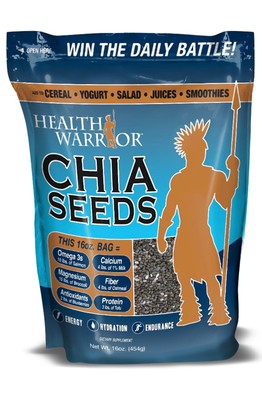 When Baltimore Ravens running back Ray Rice and linebacker Ray Lewis lined up against the Patriots on Sunday, they had a little bit of Richmond in their systems, according to a Wall Street Journal article.
Both Ravens standouts use a local product we wrote about in April: Health Warrior chia seeds. The company's chief executive, Shane Emmett, runs the business from Richmond even though his partners are in New York City.
From the Journal:
Experts say chia seeds, which have almost no taste, can absorb 10 times their weight in water—which may help speed digestion. The seeds contain nutrients like Omega 3 fatty acids, anti-oxidants, protein, iron and electrolytes.

The brand of seeds Rice uses is called Health Warrior. The company was started by two partners at a New York hedge fund, Dan Gluck and Nick Morris, who had used the seeds themselves in endurance sports training and to lose weight. Health Warrior's supplier, Pharmachem Laboratories, said orders have skyrocketed in the past year as health-food connoisseurs and amateur athletes have increased the demand for the seeds.

Skip Hammock and Dean Mosca, who work for Pharmachem, found out about the seeds at a conference in Baltimore in 2007 and began looking for places where they're grown. They eventually agreed to purchase millions of pounds of the seeds from a cooperative of Bolivian farmers. By 2011, they had more than three million pounds of chia seeds in warehouses, mostly in New Jersey.
The Journal article is big press for the local company. It will be interesting if a sales boost follows.
A 16-ounce bag of the Aztec seeds sells for $14.99, and the company is making 100-calorie energy bars that retail for $10.99 a box.