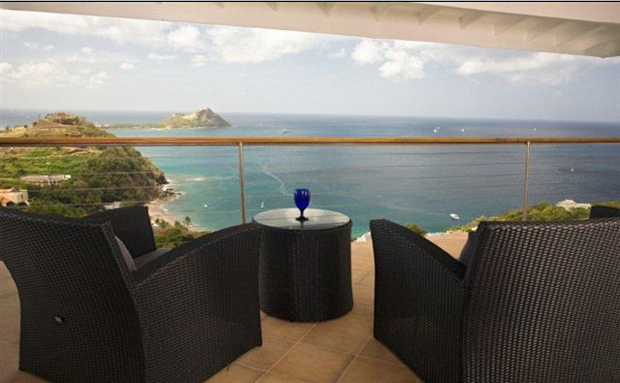 A Richmond company that helps its clients rent luxury villas around the world has found itself in a coast-to-coast legal battle with a television and Broadway producer.
Unusual Villas & Island Rentals' website boasts access to high-end villas in such swanky spots as Bali, St. Barts and the Galapagos. But the company, which John Greer runs out of his North Hamilton Street home, was sued last month by a customer who claims he paid for a West Coast rental but got nothing.
There have been at least eight similar complaints made to the local chapter of the Better Business Bureau.
Unusual Villas is being sued in California for fraud and breach of contract by a client who said he paid almost $50,000 to rent a high-end home in Laguna, Calif., for a week in December only to find out the company cashed the checks but did not secure the rental.
The suit was filed by Bill Haber, who runs OSTAR Enterprises, a Westport, Conn.-based producer of plays and television shows.
Theresa Pisanelli, a representative of Haber, said her boss rents high-end villas every year to entertain his friends.
She came across Unusual Villas' website last year and worked a deal for a weeklong rental for $42,700, according to the suit.
Pisanelli said, and the lawsuit claims, the money was sent up front as requested. That's where the transaction ended.
"I found [Greer] never rented the house," Pisanelli said. "He took our money and ran off with it."
Pisanelli worked to no avail to get the money back, the suit claims.
Greer told Pisanelli in emails in December that he was working on other deals that would allow him to pay Haber's money back. Pisanelli shared the emails with BizSense.
"I have been in business for 18 years and want to keep this confidential and I am sure you feel the same way," Greer said in a December email.
He then sent emails saying the money was being sent via FedEx. No package ever arrived, Pisanelli claims.
That's where the lawsuit comes in.
"When we filed the papers, we were hoping it was just to scare him to get us the money," Pisanelli. "Now he's just giving us the runaround."
Last week, Greer told BizSense in an email that he was working to reach a settlement with Haber and his attorney.
Greer told Pisanelli via email that he had an attorney who would help him arrange the payment to Haber.
Greer called Haber's attorney, but nothing transpired.
"We have heard nothing from John Greer or his attorney," Pisanelli said. "No monies. No emails. No settlement."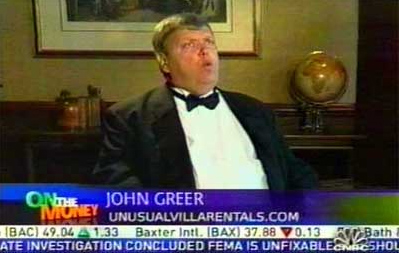 Greer put off interview requests from BizSense, saying he was working on arranging the settlement or was not feeling well enough to talk with a clear head.
The phone numbers listed for the company have since been disconnected.
Unusual Villas' address is a townhouse complex on North Hamilton Street. There was no answer at the residence Monday. An old Mercedes with a license plate that read "STBARTS" sat out front.
"The real question is: What did he do with our $42,700 that we gave him in full back in September?" Pisanelli said. "He was not supposed to spend that money but send it to the owner of the villa as he stated he did."
Haber and Pisanelli aren't the only ones who have run into issues with Unusual Villas.
There have been at least eight complaints filed against the company with the Better Business Bureau of Central Virginia, according to the agency president Tom Gallagher.
"These are serious complaints," Gallagher said. "People are talking about a significant amount of money that was spent."
All of the complaints against Unusual Villas typically involve customers alleging they paid Greer in full several months ahead of time for rentals and were notified just days before their departure dates that the payments were never made to the villa owners.
"Other consumers report receiving emails from Mr. Greer, advising them of the situation and apologizing indicating he hopes to be able to offer a refund at some point," the BBB report states.
Others were not notified that anything was wrong until arriving at the villa.
"To have that volume of complaints is pretty high, and it's unusual in our market," Gallagher said.
The BBB said it contacted Greer to discuss the complaints.
Their findings: "The company reports the economy has had an adverse impact on the business. Mr. Greer has advised BBB he is taking steps to restructure the business in hopes of resolving the pending complaints."
Pisanelli said she has been in contact with Richmond police about the matter. Haber is also considering filing a lawsuit in Richmond, she said.
"I just don't want anything like this to happen to anybody else," Pisanelli said.