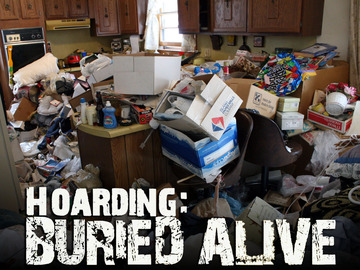 Richmond now has two local companies soaking up the limelight on reality shows about hoarders.
Abundance Organizing, a Richmond startup founded last year, made its TV debut Sunday night on "Hoarding: Buried Alive."
The program airs on TLC.
As the name implies, the show deals with hoarding, a behavior marked by the inability or refusal to discard ungodly amounts of worthless stuff.
Abundance Organizing is at least the second local cleanup company to make it on the small screen.
Richmond-based Clutter Cleaner and its owner, Matt Paxton, have been featured on the A&E series "Hoarders."  Paxton wrote a book about his experiences with a local author.
Mindy Godding, co-owner of Abundance Organizing, says the company didn't go on the show solely for attention.
"I don't know an organizer who would take this on and do it for the glory," Godding said.  "A lot can go wrong. And when you are in the thick of it, it can be an intense situation."
Nevertheless, a little attention never hurt a year-old startup.
Goddard said hits to the company's website spiked after the show aired, and she expects an increase in calls and emails this week.
The extra exposure comes at an opportune time.
Abundance is looking to expand beyond Richmond. In August, the company opened an outfit in Kansas City, Goddard said, adding that she has thought about franchising.
Cleaning up hoarders' homes is a tiny piece of Abundance's overall business. Still, the episode of "Hoarding: Buried Alive" was filmed locally late last year and features a local family drowning in its own stuff.
"They unfortunately about 20 years ago lost a child. It sent them really into a downward spiral," Godding said.
Battling depression and post-traumatic stress disorder, the family let itself go.
"Everything in the household came to a grinding halt," Godding said. "Once they finally looked around and realized what happened, they really didn't know where to start."
For reality TV, that's ratings gold.
Producers of the shows sometimes reach out to companies like Abundance Organizing or to county property inspectors to see whether they have any interesting cases.
Other times, the companies will contact the producers themselves.
"Our industry has a love/hate relationship with these shows," Godding said.
"It can be argued the entertainment industry is trying to exploit these people."
But the shows have also increased awareness about hoarding, and they show hoarders they are not alone in their cluttered world.
The shows also pay for the cleanup and often feature homes that couldn't normally access or pay for such a service themselves.
Being featured multiple times on TV doesn't necessarily imply that Richmond has a hoarding problem.
"There is a hoarding house in every neighborhood," Godding said.
With that prevalence and the popularity of hoarding shows, copycat businesses have begun to pop up, Godding said.
"There are a lot of unskilled organizers who are trying to jump on the bandwagon," Goddard said.