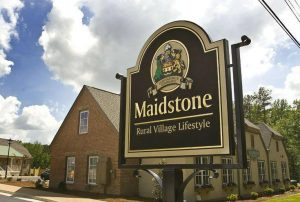 A fledgling real estate development in New Kent County is taking a gamble that's rare these days.
New Kent Courthouse Village, a stalled $30 million mixed-use development modeled after a traditional English village, requested to have its Chapter 11 bankruptcy protection dismissed last month, saying it can work out new terms with its lenders and keep the project alive on its own.
Developer Grosjean "John" Crump put the project in Chapter 11 in September to prevent a foreclosure by one of its lenders.
Now with the development out of bankruptcy, Crump said last week that he was making proposals to the project's three main lenders to refinance million in loans.
"Hopefully we can get this project moving again," said Crump. "We worked it out with two [lenders] and have one more we're working with now."
Crump, New Kent County's former commissioner of the revenue, started working on the venture eight years ago. The project stalled after it ran out of money and was unable to obtain new financing to keep it going.
The project is 21 acres broken into two sections, Preservation Park (the commercial center of the village that has seen some success in luring businesses) and Maidstone, which is to consist of about 70 yet-to-be-built homes.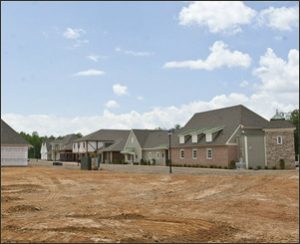 The bankruptcy was filed after Essex Bank filed a notice to foreclose on the main Maidstone piece of the development.
EVB, Essex Bank and Colonial Virginia Bank are the main lenders on the project.
Essex Bank is owed $2.53 million, Colonial Virginia Bank is owed $1 million and EVB is owed about $750,000, according to bankruptcy filings.
Despite the ongoing negotiations, Essex Bank last week filed a foreclosure notice once again on the Maidstone section of the project. It's not unusual for a bank to be negotiating a refinance while leaving open its ability to foreclose.
Crump fashioned his vision in the image of a traditional English village, which includes a church, government building, school and green space all within walking distance.
About $9 million has been spent on construction of the first phase of the village, Crump said. About $3.5 million of that was spent on the infrastructure.
There is about 26,000 square feet of commercial space that is built and occupied. The tenants include a bank, a fitness center, medical offices and restaurants.
An additional four commercial buildings have leases signed — there was just no financing in place to finish building them.
It had $9.28 million in debt and $7.22 million in assets, made up almost entirely by the value of the real estate, according to its bankruptcy filings.
Crump said there are some economic bright spots in his area of New Kent.
He said business at the Rose & Crown Tavern, the main restaurant of the village, has been picking up of late.
"That's usually a good sign," he said.
Roy Terry and Elizabeth Gunn, attorneys with Sands Anderson, are representing the development in its bankruptcy.
Dennis Lewandowski, an attorney with Kaufman & Canoles, is representing Colonial Virginia Bank.
David Browne of Meyer, Goergen & Marrs is representing Essex Bank.
William Broscious of Kepley Broscious & Biggs is representing EVB.
Photos of the development are by AignerGraphics.com.