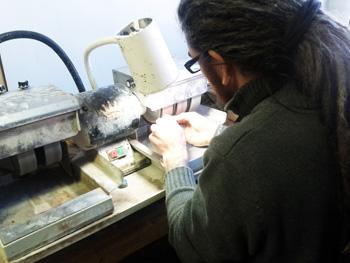 If jewelry is on your Valentine's Day shopping list and diamonds are out of your budget, you might check out Onetribe Organics' new location.
But instead of rings and bracelets, be ready to consider labrets, spikes, tusks and plugs.
After nine years, Jared Karnes, who designs and makes body jewelry that is equal parts adornment and anthropology, has moved his crew to 211 W. Seventh St. from 403 Stockton St.
"We pay just under $2,000 per month for 4,500 square feet," Karnes said. "We fell in love with the space."
The Manchester office/facility has exposed wood framing, a showroom for the jewelry and a specially constructed workshop where Karnes spends his days crafting and polishing jewelry.
"We make jewelry for pretty much anywhere on the body where someone would want to put a hole through," Karnes said.
Karnes sells his amber, jade, bone and wood pieces to the tune of about $300,000 a year to customers all over the globe.
"We have a small base of local customers, but we do 90 to 95 percent of our sales through e-commerce," he said.
Onetribe jewelry can cost anywhere from $12 to $500 and up, depending on the materials used and the complexity of the craftsmanship required.
Karnes — whose ears, lower lip and nose are all plugged with various studs and jewels and whose arms are covered in tattoos — became fascinated with body art while flipping through his grandfather's large stack of National Geographic magazines. He was drawn to cultures that practiced the same kind of body art that is now his business.
"It's a powerful thing to see something that somebody wore in their body 3,000 years ago," he said. "And it's kind of a sad thing that some people today look down on the practice when you consider that people have been doing it for thousands of years, predating the establishment of many of the great world religions."
The business began in the early 2000s, about the time Karnes was beginning his own body modification by expanding his earlobes.
"I was having trouble finding unique, handmade jewelry, so I saw it as a good little niche market," he said.
And the demand was there in spades. For the first years of the business, as he crafted his products by hand, sales grew exponentially, he said. Today, his business employs four full-time workers and one part-time employee and operates a fair-trade workshop in Bali, Indonesia, that Karnes visits at least once a year.
Although sales took a hit in 2008 along with everybody else's business, things have steadily improved since.
Today many of his more simple pieces are manufactured in Indonesia while the more complicated pieces are crafted in his Manchester workshop and shipped all over the world.
"We've shipped to Israel, Brazil, Singapore, you name it," Karnes said.
Karnes said it takes him anywhere from 45 minutes to several hours to produce a piece, although some of the custom work can take much longer: He has been working for three years on a set of jade ear flares styled after an ancient Mayan artifact.
Much of his local following comes from people who want custom pieces.
"That's where I have the most fun," he said. "You can get a better idea of what a person wants and how they want to express themselves when they come in and interact and talk about what they want. Much better than through an email."
Karnes said Richmond is the perfect place for his business.
"There is nowhere else, on the East Coast, anyway, that I can think of that would be better suited for our kind of business," he said. "The cost of living is great, and there are a lot of people who kind of understand what we do and what we're producing here."